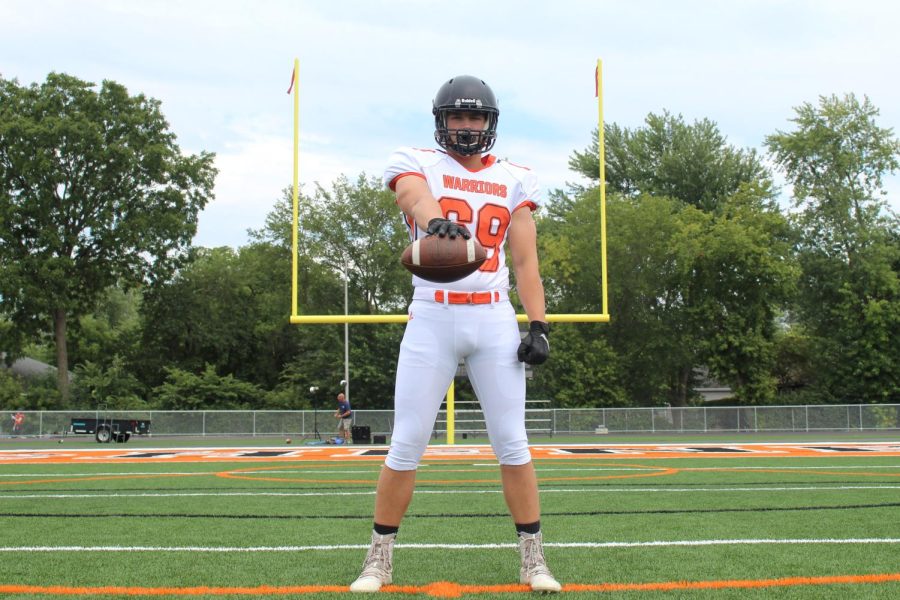 Mackenzie Sroka
It's a breezy summer morning, and the air is crisp and football practice has just begun. There are so many new aspects and changes to the team — a new coach and field among them — and  it is all suddenly unfamiliar. As the summer goes on, the team grows closer and closer, along with the bonds between players and coaches.
 Now that the school year has begun, it's finally the time for the varsity football team to show off all of the hard work and dedication they have put into this season. 
This year, MCHS Athletic Director Joel Beard became our school's new head football coach. While originally this was not the plan, he has stepped into the role that needed filling. 
"We had a pool of coaches," explained Beard, "and we weren't quite sure if it was the right direction. So we looked for other solutions, and it was just a conversation that happened. It's like why don't I just do it for a year or so to see how it goes and go from there, just to make sure we're going in the right direction."
Prior to job at MCHS, Beard was a college football coach for 15 years, which has helped make his transition to head coach easier on him, other coaches and the players. 
"Working with Coach Beard has been great," described James Buss, a varsity guard and centers coach. "He has innovative ideas that the players on the team seem to enjoy a lot.He also has extensive knowledge about the game of football. McHenry is lucky to have someone like him to lead the way."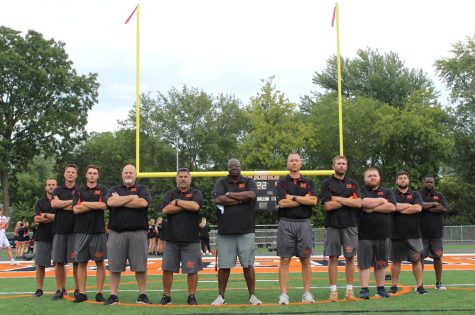 As head coach, specialty coaches, and players there are always obstacles to overcome, but it is about how they are approached and learned from that show true character. Character has become a huge part of Warrior football this year with the help of Beard guiding it that way.
"Coach Beard has been steadfast in overcoming any obstacles in order to move the program forward," states Jake Wiersma, varsity wide receiver coach. "He provides consistent leadership that creates a positive culture that pushes student-athletes and coaching staff to be the best person they can be. I look forward to working with Coach Beard for years to come." 
Along with coaches and players looking forward to Beard's coaching style, Beard has become very satisfied with his new positions at the school.
"I think it's a really good spot," Beard said, "and it's a really good school. I really enjoy it here."
Beard is not the only new addition to the team. There are three new coaches joining the team this year. Each coach has been hard at work to get to know their players and to work towards a successful season. 
"Yes this is my first year coaching football at McHenry," described Buss. "Building relationships within the program has been enjoyable. The student athletes on the team really want to get to know who you are and they are not afraid to ask questions. And likewise I love to hear the stories of how our student athletes got into football and what other activities they enjoy doing." 
In order to work towards a successful season, the team has incorporate new elements to hopefully create better people and a better season.
"We try to incorporate things into our program that helps our student athletes grow as young people," explained Beard. "We want them to believe in themselves. If they believe in what we're trying to do, we will see where that takes us
This mindset has created a whole new atmosphere and way of thinking for the players.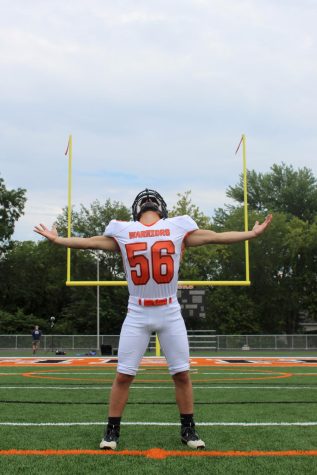 "Top to bottom this is a different team," described Quentin Kinshofer, a junior varsity player. "This year we are much more focused on who we are on and off the field. Building a 360 degree focused lifestyle has become a huge part of what makes us different from previous years."
Compared to previous years, many players believe that this season will go better, and that there is a high positive energy on and off the field. 
"There is a whole new energy around the team," explained Max Smits, a senior varsity player. "That is definitely the biggest change I have noticed because everyone is excited to play football. I really enjoy the new atmosphere our team hasLast year practices felt very repetitive and people lost energy. This year people come to practice and have fun. Everyone is always giving it their all."
Not only is there a new mindset and attitude surrounding the team, there have been other additions to the team
"We have a new coaching staff, new turf field, and brand new uniforms," described James LaRose, a varsity senior player. "But most important of all, we have a new culture, so far it's been great. I think the guys are really buying in and are excited for more opportunities with the new staff. The coaches really care for us, all of them."
The coaches have worked to create a new mindset that has led the team to become more connected to each other and coaches, which becomes a huge positive in and outside of the field. 
"These changes have brought a new way to think about our season as a whole and it did that for many others on the team," described Kinshofer. "Many players found a new sense to buy into what our coaches are saying and trusting them to lead us in the right direction." 
In efforts to gain more support from the media side of things, Beard has made branding of the team another high priority.
"I love that he has been very proactive in our branding. Our social media presence will be high and our Warrior spirit will spread because of this," explained Robert Neimic, the assistant fall athletic director. 
Beard claims that he is not one to look into the past and do what is best for the team moving forward. In that practice of mindset, he has changed how the team practices together.
"A major change has been the setup of the entire football program," described Anthony Swanson, the corners' coach. "We are practicing freshman through seniors in comparison to be split up all the time by levels in years past. The younger players will break off occasionally and work against each other but generally we practice freshman through seniors."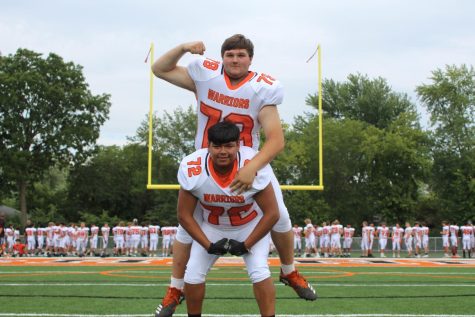 The team has also worked all pre-season and beginning of the season on developing a new offensive and defensive strategy compared to previous years.
"We have a new offensive and defensive scheme in comparison to last year," explained Swanson, "so the players have been preparing all summer by learning the new playbook. They are trying to perfect what we want to accomplish as a team and understand how we can stop our opponent on Friday."
With all of the changes, players have become able to have faith within themselves and the team to gain success in the season.
"I am excited to be able to help the team win in different ways," described LaRose. "We have a new and exciting culture that the players and community are buying into.". 
Coaches too have faith within the team to keep improving and hope to do better than past years. 
"We have a strong chance for a historic season," explained Buss. "This team has a strong senior class that likes to lead and are good at it. The underclassmen are observing the information that is being given to them. So if we can stay positive and face adversity, we should have a great season."
Many of the players are hoping that themselves and the team will be able to accomplish their season goals.
"I am hoping for the season to go to the playoffs, to give our fans and students a great season to watch, and our seniors a season to remember," described Patrick Ostapowicz, a senior varsity player.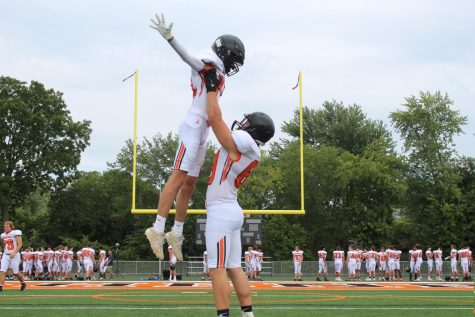 In order to make it to the playoffs, the team's hard work and dedication will need to continue. However, if there is a setback, the coaches believe that the team will be able to persevere. 
"When you put a lot of work into something," explained Beard, "and you set a goal, you work hard towards that goal. When an obstacle comes, it's hard to quit. It's hard to give up on that. So I think that they have put a lot of sweat equity into this. One little bump I don't think will affect this team." 
While continuing to work towards their goals, for now the team is focusing one game at a time, starting tonight at McCracken Field against Prairie Ridge
"The entire team has been putting forth their best effort into preparing for this Friday's game," explained Buss. "We have run thousands of yards and lifted thousands of pounds. We hope that this translates onto the field this Friday." 
Most of the players feel nervous, but very excited to have the opportunity to start their season off strong. 
"I feel very prepared," described Smits. "Our coach has done his best to prepare us for a very tough opponent. He has given us everything we need to succeed. He makes sure we work on everything that is going to be required to get the W on Friday night." 
Even with these emotions, they still feel well prepared for their opportunity to showcase the new MCHS football program.
"I feel like we are very prepared and ready to go, but it's all gonna come down to how we perform when 7 o'clock hits Friday night," explained Zachary Maness, a senior varsity player. 
The day has come for the football team to show off what they have been working towards all summer. With new mindsets, players and coaches are eager to showcase their new and improved team.