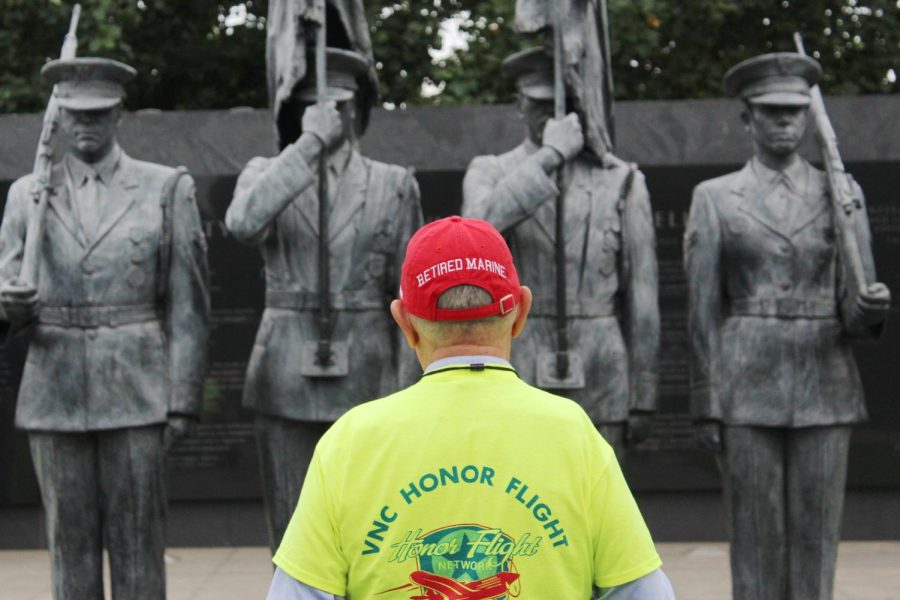 Nikki Sisson
It is 4 a.m. on Aug. 25, and I'm standing in the dark and rain waiting to board a bus with a group of military veterans. We've been at McHenry High School's Upper Campus for an hour already, standing outside gathering luggages, changing into shirts based on our groups, eating donuts and drinking coffee. We board the buses, and we're off. 
The bus is dark except for the few overhead lights on, and the roads are practically empty. I have never been at school or on a bus this early before in my life; it feels strange, but the men and women on this bus have seen much less comfortable conditions.
This trip is known as the Veterans Network Committee Honors Flight, where an organization takes war veterans to Washington, D.C. to visit the memorials and museums for wars and branches they served in. 
This year, MCHS sponsored the Honors Flight event and sent three students to report and cover the experience for Warrior Student Media. I was lucky enough to be chosen to be a part of this amazing experience, document the veterans' experience and travel along with Cooper Ten Bruin and Rayaan Ahmed of the Warrior Weekly and our advisor, Mitch Stengel.