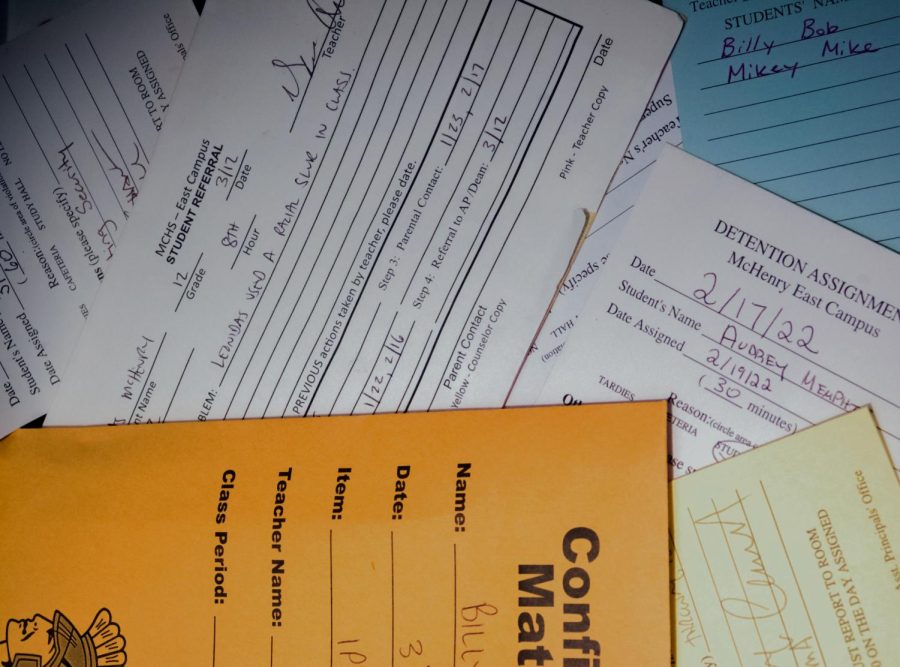 Allie Everhart
Coming off of two years of a pandemic and a chaotic hybrid schedule last year, MCHS Upper Campus has faced some challenges in regards to controlling student behavior and attendance. 
This school year has been one of the more difficult years for cuts, tardies and skipping classes. Students seem to have a general sense of apathy towards school, and even with things such as Prom or their parking pass at stake, kids just don't seem to care. The real question is: why? 
This year has been challenging for everyone, including students, teachers and administrators. MCHS made a full return to in-person instruction at the start of the year, in addition to East and West Campuses combining into the Upper and Freshman Campuses. The two cultures are combing for the first time ever, and it seems to be a lot harder on some students compared to others. 
"February 2020 [the Freshmen Campus] was East Campus and had ninth-12th graders. Most had spent at least two years in the building, were accustomed to our culture…and were not coming off a pandemic where they were 'working' remotely," says Peter Byrne, the dean at the Freshman Campus. "We all know that school expectations were altered greatly during this time as we were working reactionary to the pandemic." 
Byrne says that comparing this school year with previous years is unrealistic, but behavior has remained an anomaly this year. Blended learning and traveling during AIM was paused at the beginning of the semester due to cuts and tardies.
Earlier this semester there was a group email thread that included the entire senior class. This email thread led to spam messages, unnecessary memes, and inappropriate use of school emails. It was supposedly made as an attempt to connect the seniors and plan out senior events. 
Senior Andrew Hoffman, the creator of the email chain, stated that, "I was hoping to chat with a lot of the people I haven't seen or talked to in years, and same goes with the rest of the seniors who have gotten more distance through high school, especially before the change of campuses." 
The Freshman Campus alone has had 946 behavioral referrals this year, which can be compared to the 909 from the 2019-20 school year. 244 of this year's referrals were class cuts and 455 were tardies at the Freshman Campus. This may not seem outrageous compared to the 131 class cuts and 367 tardy violations from 2020, but that was when half of McHenry students went to East Campus. 
The Freshman Campus alone has exceeded prior school years behavioral referrals before the school year is even over, which says a lot about the mindset that has been instilled in our community.
Gregory Eiserman, Assistant Principal at Upper Campus says that it's a many-faceted problem that can be hard to narrow down to one simple fix. "I think next year will be better … But I also share with everybody, this is everywhere, right? The issues that we've seen in this building, we talk to every school in the conference, and they're all seeing massive issues as well. It's a society problem."
In recent weeks, the school has sent out several messages informing students that disciplinary action would be taken in response to poor behavior. Dr. Jeff Prickett, the principal of MCHS, sent an email Mar. 8. This email was sent out after several fights broke out between students on campus grounds. In this email, administration listed different disciplinary actions that could occur when physical altercation occurs.
"Please also be aware we take any and all physical altercations very seriously," he wrote, "and any student who engages in this behavior will be subject to a suspension, referral to the police, and possible expulsion from school."  
On Mar. 12, Prickett sent out a Schoology message that said any student who arrives at school past 7:45 a.m. will be counted as cutting class, and will subsequently be held in the south foyer until the start of 2nd period. Many students have spoken out against this new rule, saying that it encourages students to skip class and is redundant and useless. 
Michelle Jimenez, a junior at the Upper Campus, has had issues with arriving to school on time since her freshman year. She states that her freshman year it was standard to receive a detention if a student was tardy too many times, but this school year is different. 
"Last semester I was tardy 30 times, all from first period, and never received a detention, with this semester being worse," Jimenez says. "These rules never existed in the past. Missing the whole first period is worse than 10 minutes or even 1 minute."
Last week there was also a small note at the end of the MCHS newsletter. This addition to the news letter highlighted the fact that our school is currently working through many changes. Coming off a pandemic, combining campuses and adding blended learning opportunities have all created new challenges that MCHS has not yet faced. Prickett stated that MCHS is looking to implement a "Behavior Specialist" for the 22-23 school year to aid with these new struggles.
The school is working towards a safer and more organized environment, though this may take some time, plans are underway to change the way MCHS currently runs and make our school better for everyone.