A place to belong
January 30, 2023
MCHS's psychologist Eric Born helped administer a school climate survey from Panorama Education in the fall of 2022, which reveals the climate and culture at MCHS.
"When you're at high school," Born said, "one of the main reasons you [students] don't come to school is the climate, culture, and belongingness. So unless we address this, we're not going to see an improvement in attendance because some of those other factors are beyond our control." 
Looking at the data helps to paint a picture of why students cut classes so much last year. Born, MCHS school psychologist, used a problem solving model to look at the evidence, student voice and develop a hypothesis to find a solution or plan to address the problem. 
"I saw there were opportunities and problems," Born started. "Let's address that and make it better. We don't have time to wait and fail… and then we start supporting you. We need to survey you and ask questions beforehand. I'm gonna do more than what I'm supposed to do for my job and carve it into something more in the future because that's where I think education is headed.
The responses to the student survey reveals 32% of students feel like they are valued members of our school community, and the school climate was 50% rated favorable by students. Evidence also showed school belonging ratings decreasing with groups of students depending on their attendance, a correlation of less attendance related to a lower feeling of belonging, significantly.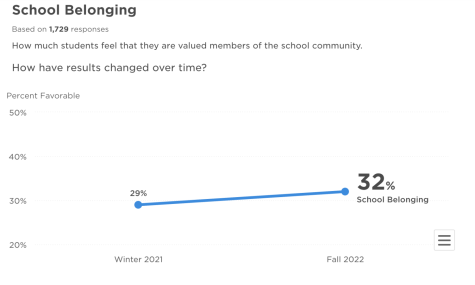 "We have to be invested to make this an enticing place so that students that have challenges come here because they see value in [school], and then they connect it to their future, because it's worth it," said Born. 
The teacher-student relationships were reported favorable by 41%, decreasing from the last survey taken in the spring of the 2022 school year.
"If you ask teachers how many of them received mental health or social emotional training in school," said Born, "it's next to nothing. But those are the biggest challenges that [students] are facing. It's depression, feeling overwhelmed, balancing life, it's still being a kid while being involved, thinking about your future, getting along with others, your place in the world, identity, and on. We need to support teachers in that."
Relationships were hard to form along with learning throughout the COVID pandemic and after. 
"There's a lot of pressure on the teachers to make in-class learning feel better than online learning," said Angello. "It's hard to force [students] back into a classroom, because we have so many other tools that make it available to them from an educational standpoint, out of the classroom."
Students' voices and expressions become important to understand the problems facing schools' climate, culture, and environment to make it a place students want to attend. 
"If you look at education," Born added, "this is a service. It is not a business. We're here to provide a service to teach skills, create a community, and a good climate. Understanding how to look at evidence and find those kids [struggling] … it's a change, and it's not gonna happen overnight." 
The survey continued to show a correlation between students who had 95% or better attendance having more favorable ratings on their school belonging, school climate, school safety, and better teacher student relationships. These ratings significantly decreased for students who had a lower attendance percentage. 
"They [students] are not connected," said Born."So if you address that, I think you'll see apathy decrease, and their connection and their desire to do better will directly improve. I think it's being able to set aside part of the curriculum and create human connections with people and get to know them."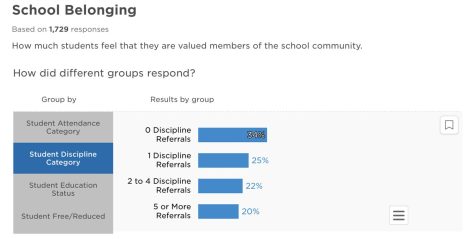 Student attendance is an issue that causes many reciprocations for the students. 
"It's our job to make sure that you're safe, connected, and supported," Born added. "Everybody kind of plays a different part. The attendance piece, when we know you're not here, you're not getting the experience. You're maybe not creating those connections and you're not learning. So how can we prepare you for your future, it's a big thing." 
The culture and community built at an individual school shapes the experience those inside of it feel and the connection and effort a person contributes. 
"It's everything, I think that's what we should be known for," said Born. "That should be the core of what we do here. If we are not creating a connection, having a climate where students feel welcome and supported, you're not gonna learn. Where you feel like you don't like working, you're not really gonna want to stick around and put forth your best effort."
Many of the staff members at MCHS were former students of the school district. 
"It's an unusually high number of staff members who went through this district who now work here," said Born. "I think that is telling evidence, I think that's a really good thing that people feel or have a fondness or affinity for the school, and they want to work here in this community. I think that's a really good thing."