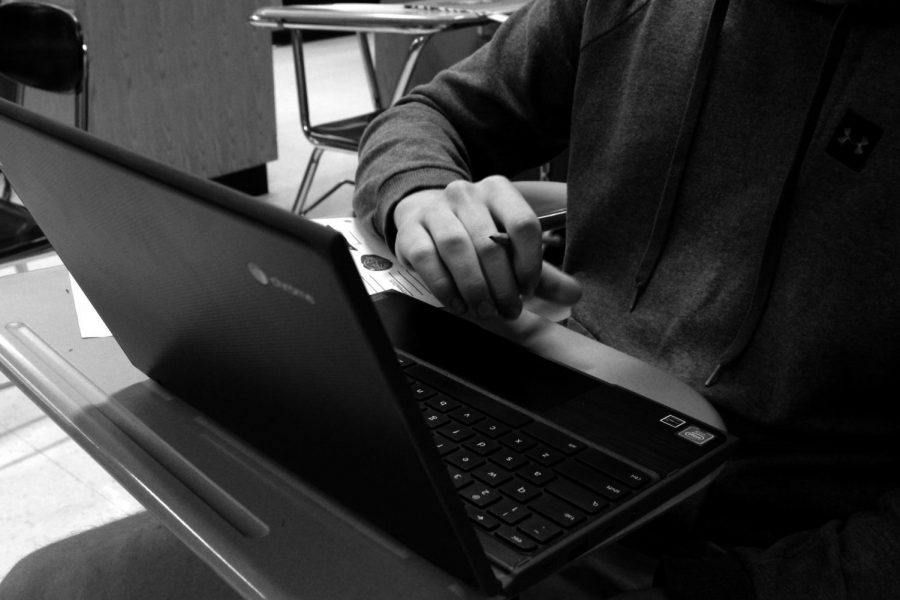 Back to home-school
March 12, 2021
At the beginning of the school year, MCHS was prepared to return to a hybrid learning schedule that would allow students to be back in the classroom learning for the first time since March. 
However, COVID-19 cases once again began to spike and it became the third leading cause of death in the US. 
"There's been a 3.2% uptick in COVID-19–related deaths, to 170,434, giving the disease a No. 3 ranking behind heart disease in the top spot and cancer at No. 2," stated the American Journal of Managed Care. "Deaths now exceed 1000 per day and nationwide cases exceed 5.4 million."
In response to the increase of cases, MCHS decided to begin the semester remotely and wait to transition to a hybrid learning model when McHenry County fit the back-to-school metric provided by the McHenry County Department of Health. 
For freshmen, this would be their first day of high school, and they would spend it in their homes glued to the computer. There's no true way to prepare for one's first day of virtual school, and many students had to learn this the hard way. 
"It was very weird and kind of stressful to start high school remotely," said freshman Ella Boland. "I found it hard to figure out what exactly was going on and many teachers would talk about stuff I had no idea about." 
This was true for many freshmen who logged off after the first day very confused about their classes, teachers, and what to expect for the school year.
"Starting high school remotely was a little scary because I had no idea what I was doing and no way of knowing how long we were gonna be remote," said freshman Lola Cassidy. 
"It was a bit disappointing to start high school remotely, I was expecting the regular high school experience," said freshman Jacob Jensen. 
Freshmen, however, were not the only ones struggling with starting the semester off remotely. Many students found it difficult especially after finishing last school year remotely. 
Junior Audrey Whitman has experienced multiple back-to-school seasons at MCHS, but this one was easily the most challenging for her. "It was very different for me because I like being at school and the different environments," Whitman shares, "Those interactions with people are what I really need to be able to be successful in school."
Other issues would arise during the semester that posed threats to the students' ability to learn. Freshman Maya Gill claims, "For me, remote learning started off really strong. I was excited to get back to learning and interacting with my teachers. But after the first week went by I had lost all motivation to do any of my school work." 
Gill isn't the only one who feels this way, many other MCHS students confess that remote learning felt optional and easy to blow off. 
Teachers ran into many problems as well. Their job became much more difficult in an online classroom, and they had to help students stay on top of things. As a high-energy teacher, Mitchell Stengel had to adjust his methods of teaching to suit the virtual format. "While I think I have a super-engaging teaching style, I did my best to keep students engaged and to help them with a buy-in to the learning happening in our virtual classroom."
Despite their best efforts, there were some things that teachers just couldn't prevent. "Remote learning was very repetitive," freshman Tyler Hurckes admits. "It felt like it was the same day every day." As the days blended together students found themselves forgetting topics they had just covered. 
Unlike anything students had ever tackled before, remote learning proved to be a struggle for all involved. The days got repetitive, students got bored, and teachers tried to push through.