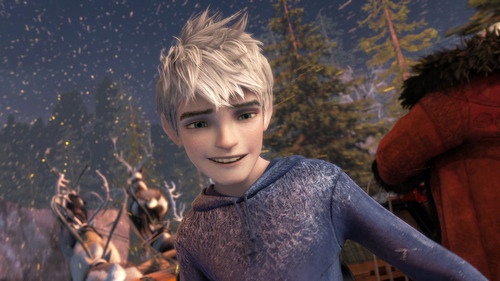 Dreamworks Animation
"Rise of the Guardians"
"Rise of the Guardians" is a wonder filled film that will keep all kinds of holiday magic in viewers lives this winter break.
"Rise of the Guardians" is a 2012 animated film that features a cast chock full of big name actors such as Chris Pine, Jude Law, Isla Fisher, and Hugh Jackman. The story surrounds Jack Frost and his claim to power as one of the five guardians. The guardians are a group of magical figures like Santa Clause and the Tooth Fairy who take full responsibility for keeping magic and wonder in children's lives. 
The animation of this movie is not the greatest, but the character design makes up for it. The Tooth Fairy and her helpers all look like colorful hummingbirds, Jack Frost looks laid back and fun with an icy sweatshirt and magical staff, and Santa and the Easter Bunny both have an edgy element to their designs, which is not expected at all. My personal favorite character is the Sandman. He does not say a single word throughout the entire duration of the film, but between his facial expressions and the glowing golden dreams he creates, he has some real charm. 
As always, one of the key factors in this movie is the music. It perfectly compliments the mood in every individual scene, and it ties the whole movie together and makes it feel so much more intense. There are several hard hitting emotional scenes that really would not be the same if the music wasn't there. 
There is a perfect amount of conflict involving the Boogeyman, which really freaked me out when this movie came out, but looking back at it it's really not so bad. The Boogeyman himself isn't creepy, but he has evil nightmare horses that cause a lot of trouble. One more important thing to note is that it doesn't take too long for the villain to be introduced. In many cases, it takes nearly half the movie for you to even find out who the villain is. In this case however, the timing is perfect. 
"Rise of the Guardians" does not take place around the holidays, or even winter at all. But the heavy presence of Santa and Jack Frost makes up for that and makes this movie a great fit for your winter break watch list. 
"Rise of the Guardians" is available for your streaming pleasure on HBOMax or Hulu (with a premium subscription)
The McHenry Messenger intends for this area to be used to foster healthy, thought-provoking discussions. Comments both on our website and social media must leave a door open for discussion and cannot include any attacks on the writer or the subject of the writing, but may include constructive criticism. Along with this, no profanity will be tolerated. All McHenry Messenger comments will be reviewed by a moderator prior to being publicly posted. The McHenry Messenger does not allow anonymous comments and requires a valid email address. The email address will not be displayed but will be used to confirm your comments.