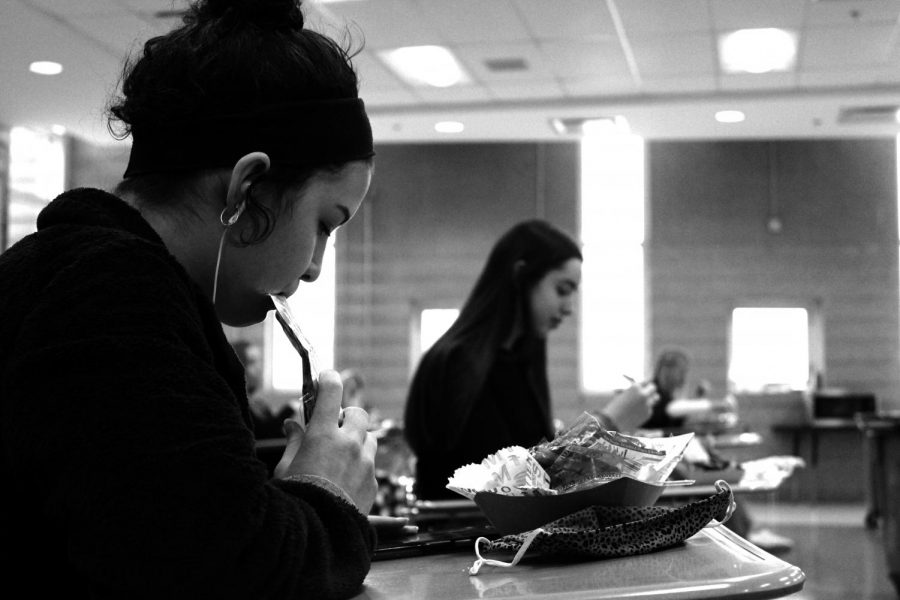 Somewhere in-between
March 12, 2021
As remote learning persisted into the winter months, students began battling with their mental health and motivation. Many students felt isolated by both the cold weather and the pandemic. 
"The winter was a lonely one. We did not have much football and there was really no point to be outside because the cold was brutal" described senior Paul Zunkel. 
While this was true for several students, others used it as an opportunity to work on themselves and tried to stay positive. 
"Another thing that I did was facing my anxiety and facing my depression," said sophomore Rayaan Ahmed. "I decided well there's nothing I can lose so facing those and seeing what made me think negatively really allowed me to fix myself and things I did that were hurting me. It was a lot of self-evaluation and analyzing yourself. I started thinking ahead and making completely new goals and challenges that I could overcome to get me to feel confident. This allowed me to work for something gradually and look forward to something new every day."  
During the winter at home, many students worked to better themselves, in order to maintain positivity during the long months. Keeping a positive attitude helped so many students like Ahmed continue to have the motivation to do school from home. 
While motivation was lacking at the end of remote learning, many students felt rejuvenated with the return to in-person learning through MCHS's hybrid model which they implemented on January 20. 
"I'm looking forward to being able to socialize with others and meet new people," said freshman Abigail Hertel. "You would not think that you wanted to go back to school so bad."
"But definitely being in person like I have more motivation to like do well," said Zunkel. "I'm back in the groove of stuff like that so I'm just really excited about football and then you know being at school, kind of like I touched on it. I have more motivation, while my grades are getting better and I'm just more excited about it."
Students found that it was easier to have motivation when there was something to look forward to like a sport or going into school, rather than sitting at home just doing school and nothing else. The motivation created a better environment at school, which works to feed other students with the motivation to work towards success. 
Sports and activities starting up again have been a big motivation for students and have created much more positivity surrounding the current hybrid learning. 
"It's nice to be back in sports," said Kostelnik. "I think with hybrid, it's still not the same it feels like half a senior year. It doesn't feel like I'm really in school only going two days a week so I'd rather be all online or, all in person, but I'm still going into school to do sports and finish my senior year."
"I'm just glad the kids get the opportunity to play. Last year's spring seniors didn't even get that opportunity," said John Beerbower, West Campus PE teacher and coach. "Even if it's a few games, a short season, I think the fact that we can do something is great. I'm more appreciative of what we can do than what we can't."
Lots of students needed a separate environment to do school work, and going to school in the hybrid model gives that to students. Being in the building that has a positive environment can transfer motivation and happiness to students. 
"You know, it's not as much interaction I think among students and teachers," explained Whitman. "So it is quite different. But I think just again being back in the building is nice and motivating to be back." 
Being in the building for school has also helped students get the support they need from teachers rather than being distracted at home. Being in the building is so helpful for so many students. But also some students do need social interaction in order to stay motivated. 
While transitioning to the hybrid plan, many teachers had to adjust to accommodate all students. 
"I was able to adapt," stated choir director Derek Galvicius. "I was able to figure out how to make it work. It was just not the most ideal situation. I find it the most challenging to make sure that I still make my Zoomers feel as though they are absolutely still a part of the group."
Even though teachers found it difficult to do this at first, almost every teacher has found a way to adjust. According to Stengel, he includes his remote students in everything that he does, and brings them around the room, he talks to them one-on-one, and he has made it a point to make sure that they are included in our classroom environment. With teachers adjusting to the hybrid model, almost every student has been able to learn successfully.
"Hybrid learning is definitely much better than e-learning, I feel like I can actually connect to other people now" stated Cassidy. 
Being able to be in-person working with other students is way more beneficial to the student than being put in a Zoom breakout room with other students. Students now have a chance to connect and build relationships with other students. For a lot of the students being in-person with other students and teachers actually helps the student focus. 
According to Gill, "It feels like real school again because I am able to interact with teachers and my friends and I actually paid attention in my classes, and the worry of my grades slipping again went away and I was able to enjoy the hybrid experience." 
The social aspect of school has definitely changed over the year, mostly due to COVID-19. Students now would rather go to their devices, instead of how they used to talk. COVID-19 has put fear in us to not interact with people closely whenever possible. 
Galvicius described, "what I do notice now, talking and high fives and hugging and hey what are you doing this weekend are gone. Now everyone's like, okay, straight to their devices. That element of social interaction is gone for now, but even students seeing each other has helped raise morale and motivation."
The grades of students have been improving throughout hybrid learning compared to complete remote learning. 
"My overall grades have actually been more positive than last semester, and I truthfully believe it's because of my students and how hard they're working when they're in the classroom," explained Stengel. Since students have become more motivated when it comes to school, grades have been improving in all teacher's classrooms.