The police department
May 19, 2023
Through its partnership with MCHS District 156, the McHenry Police Department has one SRO at each campus. The SROs could not comment on ticketing practices. Instead, Commander Mike Cruz answered questions on behalf of the police department. 
SROs are, first and foremost, police officers enforcing local ordinances and state laws. In the school setting, their duties extend beyond that.
"They are in schools primarily to ensure the safety of our student citizens and school staff," Cruz said. "They are also there to mentor and counsel students and staff on a wide variety of issues, from general questions on law to helping find social services for those in need. Their function is literally in their title — 'school resource officer.'"
All citations issued by them are for violations of state statutes or local ordinances. For "misbehavior," there are no citations issued.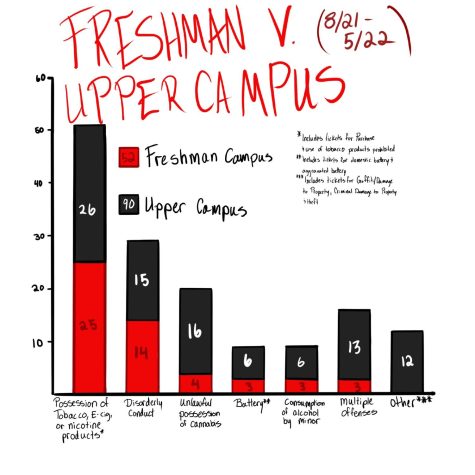 "Typically, school resource officers are either alerted or witness an incident," Cruz said. "They then investigate that incident to determine if any state statutes or local ordinances were violated. If it is found [that one was violated], then a consequence could result in a citation or possibly an arrest. If the school resource officer determines no [violation], the incident would be referred to the school administration."
Parents or guardians are informed of the incident and consequence when a student receives a ticket. The ticket comes with a court or hearing date, requiring a parent to appear present. The incident could appear on the criminal record, depending on the citation type. 
"An adjudication citation is essentially a fine that is issued for an offense. Thus the offense … would not be recorded into the offender's criminal history," Cruz said. "Local ordinance citations … have a possibility of appearing on the offender's criminal history. However, when an officer issues a local ordinance citation to a juvenile, the officer also issues them paperwork explaining how to have the offense expunged from their record."
Last year, the McHenry Police Department did not believe ticketing in schools violated Senate Bill 100. Their stance appears to be the same. 
"The McHenry Police Department enforces city ordinances as well as state laws in all locations that fall under our jurisdiction," Cruz said.
Following the then-superintendent's plea to stop ticketing last year, McHenry did not stop. The state superintendent does not govern law enforcement. Thus, the police department did not have to follow Ayala's guidance. If HB3412 passes, though, there could be changes to how SROs handle issues at schools. 
"If it is mandated through state statute that law enforcement alter our enforcement of local ordinances and state statues inside of school buildings," Cruz said, "we will consult with our county State Attorney's Office and follow their guidance."