Student perspectives
January 30, 2023
Many students understand the repercussions of not attending classes or school. It often leaves students behind and further stressed out. 
"Sometimes it's fun," commented one student who preferred to remain anonymous. "Sometimes I just can't be in a class. It makes me seriously want to cry. Or class discussions, I don't like talking. A lot of teachers seem like they have no interest in their jobs. I don't like being around those other teachers." 
Teenagers often struggle with outside pressures and balancing emotions with others' opinions.
"I do like the school itself. It's more the people in it," said junior Emma Garrett. "It's really the students and the environment that they make it. I think MCHS has amazing programs, amazing opportunities. It's the students that almost bring it down." 
Students expressed how participating in class can be difficult because other students are rude and cause embarrassment on those who do so. 
"You can do the simplest thing and be judged for it," said sophomore Natalie Schlotfeldt. 
Students are in school for much of their daily lives, spending each week day in and out in the same building surrounded by their peers.
"It's hard not to care what others think," comments Garrett. "We are here for four years. This is the environment that we spend seven hours a day, five days a week, for four years of our lives.Your peers may mean nothing to you in the future, but right now they're your everything." 
Some students have a hard time with the school's strictness around tardies and cuts. It makes them feel stressed out. They also feel ignored because they have reasons they feel are not addressed and instead are punished. 
"I remember being taken down to the office about my tardies," said Schlotfeldt, "but the only reason I'm getting them is because of trying to go to the bathroom or trying to get to class across the school … I feel like [teachers] should ask why you're late and hear if you have a reasonable explanation for it. I feel like there needs to be a better system for it."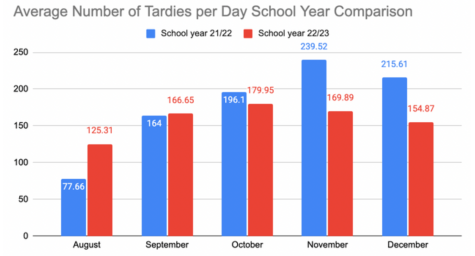 Garrett dealt with many attendance issues and other school violations in her freshman year of high school. She had an ISS, tickets and several detentions.
"Nobody had any idea that I had a whole home life situation going on," said Garrett. "Until the dean and principal reached out to my mother, … then I felt understood and heard. My teachers had more reasonable expectations for me. Until I did that and spoke to my teachers about what I was going through, I felt unheard, unseen, and not a part of this community. Now, as a junior, I think I'm definitely putting myself forward."
Garrett also is involved in several sports which encourages her to attend school and helps connect her to her peers and the school itself. 
"There's something so divine about being a Warrior," said Garrett. "There's so many people who honestly I would have found weird or not in the normal societal box, and then they were on my wrestling team. Now I see them like family … they're my team. Just that sport alone has completely changed my mindset on a whole room of 60 people." 
Vanessa Etherton was struggling with attending school because of her low mental health and lack of motivation.
"I came to school one day halfway through the day, and I literally couldn't get out of the car," said Etherton. "I did not want to enter the school. It was so bad."
Her mother entered the school and was able to retrieve a teacher to help support Etherton.
"He told me that I could stay in the Chill Zone all day, and talk to my counselors about what was going on," said Etherton. "They helped me find a therapist, and I love her so much now. I feel like students should be more open about their feelings, because some teachers do help."
Much of attending school is about creating good habits, and students have to put forth the effort.
"It takes 21 days to create a habit," said Garrett, "so if you go to school for 21 days, your brain is going to have that habit, and you're going to be mentally prepared. For people who don't come to school and don't show up, it's just forever going to be this hard struggle. 
Sophomore Alivia Jacobo has cut her challenging courses because she tends to struggle in the classroom environment, and she has a low grade in the class. 
"In class, I feel like I don't learn anything," said Jacobo. "I leave to go talk to friends, and I have a better day that way. I just like to leave because my problems go away that way."
Some students find it hard to attend school because of lack of motivation and fulfillment of important information as students stress the void they feel over not learning important information to them. 
"Personally I don't believe in motivation,"  said Garret. "I think it's about self-discipline. Nobody's gonna be motivated all the time, that's an unrealistic expectation … but it's a matter of are you gonna make yourself do it? Are you going to start creating that habit?"t
Senior Justin Link comments he has a connection to his teacher that makes the class more enjoyable and a fun classroom environment that almost every student wants to attend.
"She's just there for us," said Link. "If we need anything, she's got us.
The students who show up to school and put forth effort to make their experience great tend to enjoy their high school experience. 
"I feel bonded to any teacher that I want to at school," said Garrett. "It's the effort you put in and how you take advantage of the resources and opportunities you have. If you cut, you're gonna have consequences, but we have opportunities to go to the Chill Zone, social workers, psychologists, and others you can go talk to. I think we just need to take advantage of everything we have here."