Tracking for safety and success
January 30, 2023
The Illinois Report Card noted McHenry Community High School's problem with "Chronic Absenteeism" during the 2021-22 school year. The district has focused on the attendance issue because of the connection between lack of attendance, grades and its impact on the school. 
According to the report, "Illinois law defines 'chronic absentee' as a student who misses 10 percent of school days within an academic year with or without a valid excuse. That's 18 days of an average 180-day school year." Even when a student has an excused absence for something like illness or caring for a family member, they still need daily class time in order to truly succeed. Students who are more often absent are at more of a risk of academic issues and social problems.
Upper Campus Security Personnel Lauren Traynor catches students cutting classes every day, whether they are wandering the halls, sitting around the building or trying to blend into lunch periods.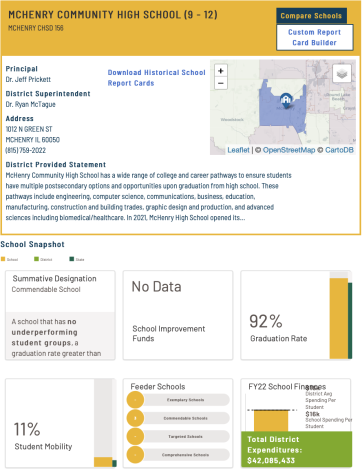 "It's dangerous in the sense that people don't know exactly where [students] are," said Traynor. "If there's an emergency situation and you're not with your class, you could be literally anywhere … That creates confusion and delay."
This year, MCHS has implemented new programs such as the MyHomework and Minga apps to help better manage student's attendance, hall passes, and IDs. These systems have helped the school keep track of which students are in the hallways in an effort to keep individuals out of trouble. It also helps with monitoring off-campus lunch procedures by checking IDs in and out the building. 
"Those [apps] are really helpful," said Traynor. "It tells us when somebody has a blended class. It identifies that the class can be blended, but it's not necessarily specific to that day. So there is a need to double check attendance sometimes."
Security at MCHS works hard to keep students safe and accounted for in the building. They work to bring students back to class and discuss the importance of being in class in order to succeed.
"Showing up is half the battle," said Traynor. "Do some of the work and just pass the class if that's all you can muster is passing it."
Students cut classes for many reasons. Many students find themselves stressed out or don't see the purpose in attending classes at all. Anxiety over tests and projects also make the classroom not a delightful place to be all the time. 
"There's many reasons," said Traynor. "I think they don't see the value in it. Personally, I think you have to value being there, or you don't. They [students] don't see the purpose and for whatever reason they're not finding that [class] to be a useful use of their time."
Security, administration and staff spend many hours tracking student attendance. Attendance personnel at MCHS work between different systems to correct errors and figure out individual student attendance throughout each day. 
"I just want everybody to go to class, get their education and go on to be successful adults, whatever that measure of success looks like to them," Traynor comments. 
Hilary Agnello is the Dean of Students who tracks truancy at MCHS. She says cuts appear when a student is not present in a classroom they are supposed to attend. Students are then called down to meet with an Attendance Interventionist for a conference, which explains the consequences, explores the student's justification and discusses the reasons or possible errors.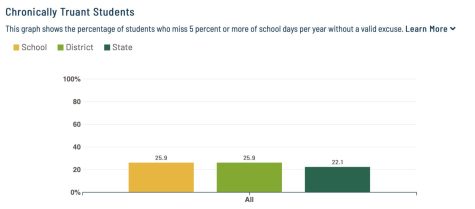 "I think they [students] need to be held accountable," said Candace Johnson, an attendance interventionist, "and I think they need to understand we care and want them in class. You must be in class to get good grades, and that's ultimately the goal for them to do wel."
Many hours are put into tracking student attendance. Attendance personnel at MCHS work between different systems to correct errors and figure out individual student attendance throughout each day. 
"We try to do everything we can to encourage the kids to go to class," said Johnson. "We improve attendance by talking to the kids, trying to work with them, and figuring out if there's any help we can give them. There's a whole bunch of staff in place to help a child succeed, but they have to want to succeed themselves."
Consequences escalate for students who cut classes consistently. Consequences can be detentions, extended detentions, in-school suspensions, out-of-school suspensions and sometimes removal from the building. In some extreme cases students may be issued trespassing warnings and police department tickets.  
"If I can't trust you to go to your class," Agnello said, "I want to put you in one room where I know where you're at, because my job really is to keep people safe. If I can't account for where you guys are, I'm not doing my job. To the point where the worst case scenarios of kids who continue to cut without a justified reason or error, if I catch them cutting again and I'm radioed, I send them home. I just say I can't trust you to be in the building,"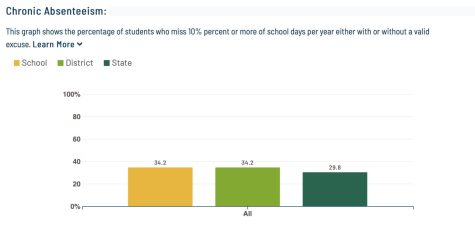 Parents and guardians are notified when a child comes in for an attendance conference. This alerts them to the issue along with detention information and the consequences in response to the student's cuts and tardies. 
"There's a lot of detentions," said Johnson, "but there's also a lot of negotiating because at the end of the day, we want the kids to learn and to be their best self … We just hope that they succeed."
The processes and systems in place are not perfect, but it is a start to help manage attendance and maintain students safety within the building. 
"I don't think it's a perfect process," said Agnello, "but I think we have to do something in order to address as many individual cuts as possible because when there's so many class cuts, academics plummet," said Agnello. "We're trying to put more accountability on the kids to be able to control where they are going without us … But not everybody does it the right way and they take advantage of it." 
Some staff called the school year 2021-2022 class cuts "brutal." Compared to last year the hallways seem to be more controlled, and the situation seems to be improving at MCHS. 
"We had over 2,000 class cuts in January alone and 1,800 kids in the building," Agnello said, "and what ended up happening is the grades across the board just plummeted. I think having such a hard year when it came to class cuts and discipline, we were looking at anything to help. We had kids running away from security guards, cutting all over the place, kids sleeping in the hallways and bringing a pillow. It was chaos. It was not what a school is supposed to be. When I do my hallway sweeps, It looks way better now. When kids are in the hallways, they look like they're learning."