LASO celebrates cultural diversity during Day of the Dead
During Día De Los Muertos, students can learn about Mexican culture during a special showing of "The Book of Life"
The Latin American Student Association, also known as LASO, will celebrate the Day of the Dead by hosting a special showing of "The Book of Life" on November 1 from 7-9 p.m in the West Campus auditorium.
Day of The Dead, known in Spanish as Día De Los Muertos, is a two-day holiday for people of Mexican or Latin American heritage dedicated to celebrating the people they have lost. The holiday is celebrated mainly in Mexico but has slowly started becoming more popular in the U.S. It starts late at night on October 31 and goes through November 2.
The holiday is made up of a couple of different celebrations, each day offering something different. On October 31, it is believed that the gates to heaven open. "It is celebrated for three days and it represents three types of people; the first day is for those that didn't see the light called Los del Limbo, the second day is for the little angels [the kids], and lastly the adults which is the largest celebration for everyone," explains Alexsandra Hernandez.
The celebrations for Day of the Dead are planned in a way that gives them as much time with the spirits of their loved ones as possible. There are altars that people celebrating make which include candles, flowers, the favorite foods of those who have passed, and drinks. They often leave toys for the children. For adults, they leave an alcoholic drink similar to tequila called mescal and cigarettes.
Spanish for Heritage Learners teacher Otto Corzo briefly talked about how marigold flowers are often left on the altars as well because they're bright and they are used to help guide spirits to the altars because of their intense color and smell.
The final part of the altar consists of sugar skulls. The celebration begins in the family's home but often ends at the cemetery a lost one was laid to rest. Hernandez mentions, "The cemetery is lit by candles and there are flowers. It looks beautiful."
LASO has made plans to celebrate the Day of the Dead at the end of this week that intended to bring together MCHS as a family. On Friday morning, the organization will have an altar on display, and their family-friendly movie night on Friday night will also include face-painting, a photo-both, food, two dance performances, raffles and more.
About the Contributor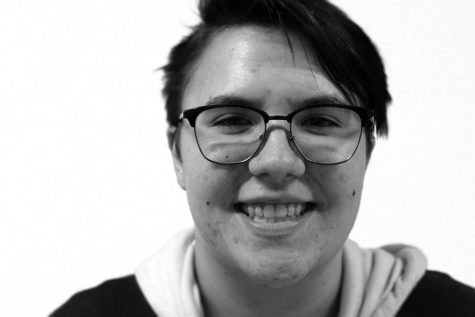 Oliver Simpson, Staff Writer
Oliver Simpson is a senior at McHenry High School's West Campus. He enjoys writing and has a passion for civil rights and activism. In addition to writing for the Messenger, he is the Co-President to the McHenry Gender and Sexuality Alliance.