New "lift" in MCHS Strength Program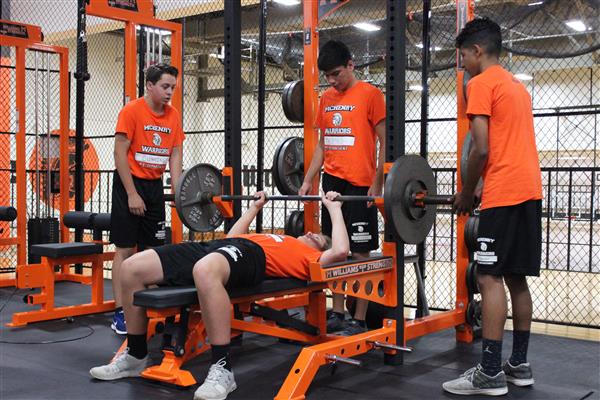 McHenry West Campus has brought new attention and recognition to a program many thought was irreparable. Thanks to a select group of teachers and students, the strength program at MCHS has brought new opportunities and pride not just to MCHS, but to the McHenry community as a whole. From sport-regulated to fitness-focused, the revived program has provided guidance and success for many students.
While many people made this possible, one person who is striving to build-up strength and unity at MCHS is the Director of Strength and Conditioning, John Beerbower.
Beerbower said the turn around of the program has been a process. While this may not have been an overnight process, he said one key to its success has been the new "unified" mindset.
Between the larger variety of equipment and the technological advances with the workout program TEAMBUILDR, students are able to get more out of the MCHS strength program than ever before.
"We just needed a little bit of passion, and the right person to say 'we're gonna focus on a unified approach,'" Beerbower said. "Anything that's been positive has been because we're doing the unified approach."
TEAMBUILDR allows strength students to track their workouts and progress, as well as interact with the amount they're lifting and the reps they need to complete during the class period. This technological advancement has helped the program stand out.
While Beerbower was a massive part of the success, the program could not have taken off without the support of students. Diligent students such as Senior Zach Derflinger, a student at West Campus, helped the program gain traction and contributed to the impact it has had in these past few years.
"It gave an opportunity to kids who can't lift outside of school the ability to [do so]," Derflinger said. "It impacted me by making me stronger, and learning more about everything and [has helped me be] the best I can be." 
With this program, there has been a big push for combining all sports and genders into classes and embracing the overall idea of unity as a whole. 
Society often perpetuates the stigma of highlighting the male-dominant aspect of lifting and school strength programs while simultaneously leaving the females out of the conversation. While this may rule over some schools, Beerbower said that is not the case here at MCHS.
"[Some people] might be surprised that sometimes our females are our hardest workers," says Beerbower.
Ashley Wachter, a sophomore at West Campus, is just one of many girls who is defying this strength room stereotype.
"I have been dedicated to try and get the most results out of the program, and every couple of weeks I can see results in my overall strength and abilities in the weight room," she said.
Wachter works with the boys and does not think twice about it, which shows how unity and Beerbowers' overall mindset has impacted the school and made the strength room a staple of McHenry West Campus. 
Hang on for a minute...we're trying to find some more stories you might like.