Updated: MCHS celebrates Homecoming 2021 this week
Though pushed off until COVID-restrictions allow for a safe celebration, MCHS has reinvented Homecoming this week amid unprecedented conditions
Homecoming week is finally here — just in the spring instead of the fall.
In an effort to keep traditions alive, West and East's student councils have set up a spirit week and other Homecoming-related activities throughout the week. This is in addition to traditional Homecoming events such as powder puff football, coronation, and athletic events.
Check this story every day for continuing coverage of Homecoming and a preview of the day's events and activities.
Friday, April 23rd
The last day of Homecoming week is full of events and activities. Break out your floral prints and leis, because the spirit theme is Hawaiian Day.
During the lunch periods on Friday, students have the opportunity to participate in Duct Tape the Teacher, a tradition at MCHS. This year, choir director Derek Galvicius will be taped. 
Each grade level gets to use their own tape color to represent their class, and at the final reveal for participation takes place at the end of the day. The fundraiser raises money for the Student Council senior gift. Tape costs 1 dollar for one foot, 3 dollars for five feet, or 5 dollars for ten feet.
Friday night will also feature a special Homecoming football game. The final home game for the Varsity team will begin at 6 p.m. versus the Burlington Central Rockets. Gates open at 5 p.m. and all students are welcome to attend, as long as they carry a student ID with them, enter through James Street, wear a mask, and maintain their social distance. 
Homecoming week comes to an end following the football game, and the activities have been a way to uplift students during a tough year.
Thursday, April 22
Hit the snooze button and sleep in late on Thursday — it's PJ day! Feel free to roll up to school in your hoodies, sweatpants, or even a onesie. Pajama day is a student favorite at MCHS, and often gets a lot of participation.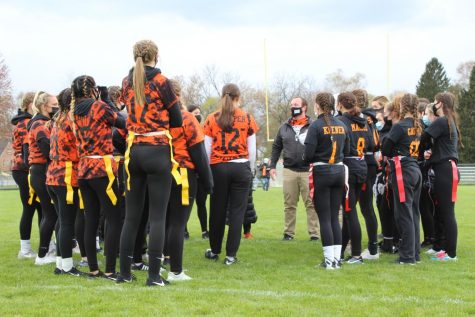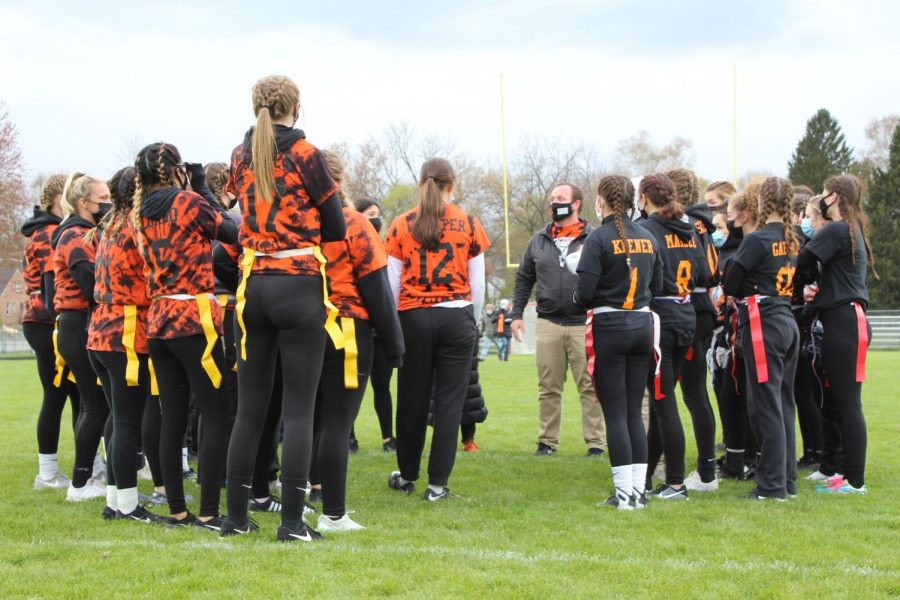 Wednesday, April 21
Wednesday's theme is Warrior Wednesday, designed to share school spirit. Students are encouraged to wear any McHenry gear they have-whether that is a hoodie, t-shirt, sweatpants, or even something else. 
If there is an issue on Tuesday night, Wednesday will be the rain date for the Powder Puff football game. It would still take place at McCracken Field beginning at 7 p.m.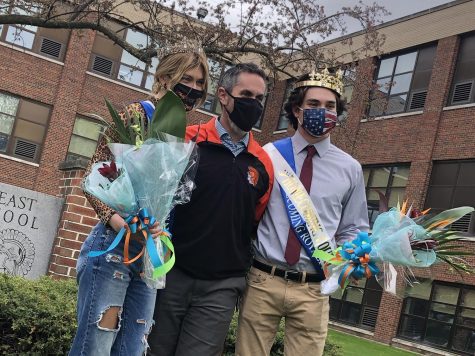 Tuesday, April 20
Tuesday's dress up theme is tie dye for all students, faculty, and staff. The main event, though, is the Powder Puff football game that night.
Powder puff football is a Homecoming week tradition, in which the girls play a game of flag football and the football team becomes the cheerleaders. The teams consist of juniors and seniors from West Campus against juniors and seniors from East Campus.
The game takes place at McCracken Field at 7 p.m. on Tuesday night. A link was sent out by East assistant principal Kyle Hobson last week to sign up to attend the game.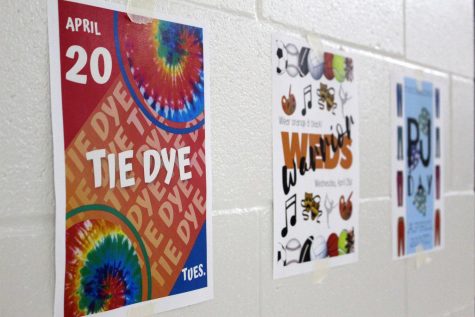 Monday, April 19
To kick off Homecoming week, StuCo decorated the West Campus commons and hallways over the weekend.
Monday's spirit theme is color wars! Students are encouraged to wear the color assigned to their grade level. Freshmen should wear green, sophomores purple, juniors red, seniors blue, and staff members black.
Keep an eye out for each color in the halls to see which class had the most participation!
On Monday afternoon, seniors have a Homecoming coronation. In the Homecoming coronation, each senior gets to highlight a teacher who mentored them in some way over the past few years. The event takes place at East Campus at 2 p.m., and all students are welcome to attend
Check back tomorrow for continuing coverage of Homecoming events and activities.