Students and staff prepare for upcoming changes in district
With the Passage of the Referendum, Members of District 156 community Offer Their Perspectives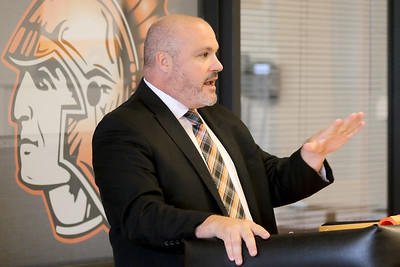 With the passage of the referendum in the fall, East Campus will become a freshman-only building and West Campus will house all sophomore through senior level classes in the district.  
With these changes, McHenry East High School is projected to see enrollment fall to less than 500 students, while West will see an increase from its current student population of 1,500.
The referendum gives the district $44 million in bonds to complete needed building renovations and add construction to West Campus. There are plans to create a new science and technology center at West Campus.
"People are really excited right now. We are happy and ready to begin our next phase," said District 156 Superintendent, Dr. Ryan McTague.
With construction set to begin this spring, current freshmen at East and West are guaranteed to leave the district from West Campus, as renovations will be completed by the time graduate.
"I don't really mind switching to West," said Connor Vance, currently a freshman at East Campus, "it will just be the same thing but bigger."  Vance went on to say that he'll see the same friends and staff in the same general location.
One element of school culture that could change and is causing concern among some is the ability of upperclassmen to mentor new arrivals to the district.  Jorge Aguilar, a freshman at East, says that programs such as Link Leaders and P.E. Leaders which are built on a model of older students mentoring younger ones will probably go by the wayside.  Aguilar questions if freshman students will have "other, older students they can look up to."
It remains to be seen if and how many teaching positions will be eliminated as a result of the new structure in the district.  
With construction for building improvements scheduled to begin this spring, McTague says, "we have now been given the opportunity and responsibility to create a sustainable modern and equitable educational environment in our district for the foreseeable future."