The doctor is in
COVID-19 has impacted the mental health of millions, so health professionals have changed how they treat clients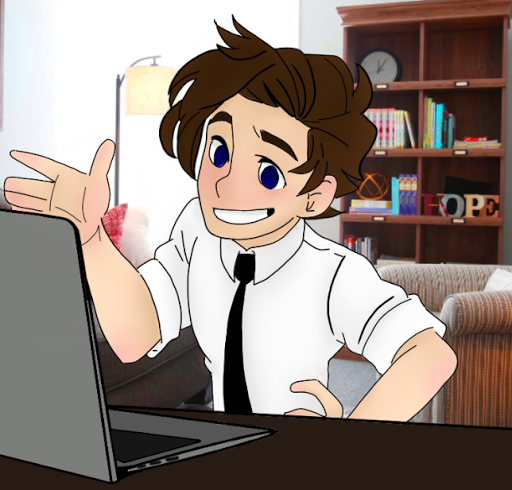 When the COVID-19 pandemic made its debut, it created mass hysteria and panic among every community around the world. This intense hit to the mental health of millions not only overwhelmed people in general, but specifically overwhelmed mental health professionals. The pandemic changed how, when, and where therapists, psychologists, and psychiatrists alike treat mental health conditions.
"Before the pandemic, we typically saw our clients for individual or group counseling in our offices, in person," therapist Beth Janczack states. "In fact, before the pandemic, most major insurance companies did not allow clients to use telehealth services for counseling appointments. However, beginning in March, the rules around telehealth changed, and we have been meeting with most of our clients virtually. "
After switching over to virtual appointments, the amount of clients for therapists has actually significantly increased. This can be due to several reasons, like clients struggling more from the pandemic or on the flip side, therapy just being more accessible in this fashion.
"From my vantage point," psychotherapist Heidi Wodrich says, "it appears that people are more comfortable seeking help in this fashion than they ever were before. Personally, my caseload has almost doubled, and while it is making me work harder, I am honored to be of service where I can."
This shift from in-person therapy to telehealth therapy has changed both the game and approach for many therapists. While it has created an influx of patients, the change is for good reason. Many clients have been facing never before seen challenges, creating a slew of new conflicts for therapists to help sort out.
"I feel that the biggest challenge that I am dealing with is consistency", therapist Sheri McCue explains. "With school classes changing from week to week, people working from home, the fear that COVID has brought, and so much uncertainty, clients that I see weekly sometimes cancel. "
The mental health of patients is extremely important, but what about the therapists? With these new challenges they have a lot of their own emotional regulation to navigate as well.
"The biggest challenge for therapists,"  Wodrich details, "is just taking good care of ourselves in order to not end up feeling completely burned-out. If we don't take care of ourselves, we can't be much help to anyone else, right?"
Janczack adds, "Some of the biggest challenges I've faced while treating clients have to do with learning how to balance my own family's needs, while learning a whole new approach to providing therapy.  I have two young children at home who were participating in e-learning, and needed a lot of help and support. As I had never provided virtual sessions before, there was a learning curve for me."
Things aren't all bad, though.s A lot of positives have actually come out of treating clients during these times. As therapists quickly adapt to the changes, many clients have made great progress in their own mental health journey.
"I feel that mental health has not been taken seriously in the past," McCue describes. "But, with the increase in awareness, it has begun to become more acceptedMental health is so important. Everyone has issues, and they should not be shamed for asking for help to get through a situation. COVID is a big deal, and [the stress] is added onto our everyday issues. Having a safe place to work through things is harmless."
Although stressful, the current times have helped relieve the stigma surrounding the act of asking for help. Now that a greater number of people are faced with anxieties and struggles of their own, it has helped start the conversation about mental health among communities who have never experienced this before.
"I think it has been a great opportunity for so many people to reevaluate what's important to them, what they can let go of, and how to be present in a moment," Janczack adds. "I've heard time and time again that this has been a clarifying experience, that they know what they can overcome, what they truly value, and what they no longer are willing to put up with in their life."