The long road leads to McHenry
After teaching sent him across the United States, Hokinson finally finds a home within the walls of MCHS.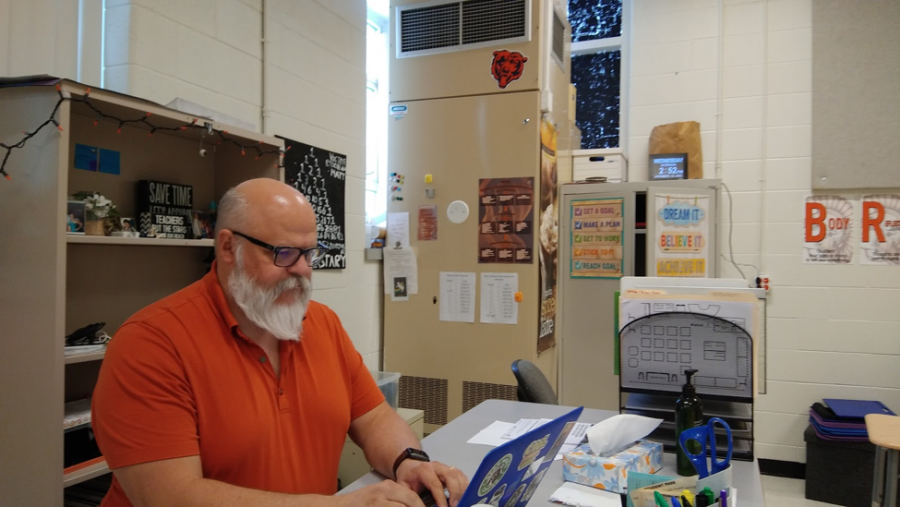 Olivia Greenwald, Contributing Writer
November 18, 2019
As he looks around his classroom and at his students, Mr. Kristian Hokinson thinks about his journey that got him to where he is today. Hokinson has always loved math, and he has always been really good at math. That is one of his biggest reasons for becoming a teacher here at McHenry Community High School (MCHS).
Mr. Hokinson didn't always want to be a teacher. When he graduated from high school he wanted to start a career in Engineering. But during his first semester in college he realized, "I was doing a lot of tutoring of people in math classes…and so it kinda hit me…I think I should be a teacher," Mr. Hokinson explained.
"This is my eighteenth year here", noted Mr. Hokinson. Although Mr. Hokinson has been teaching here for many years, his teaching career didn't start here. It actually started in Hawaii. During his senior year of college, Mr. Hokinson went to a job fair for education and was immediately offered a job in the state of Hawaii. With very little information, he decided to take the job.
"I taught four years at Warren High School in Gurnee, prior to that I spent two years at an all boys Catholic school in the city, Gorden Tech, and then prior to that my first teaching job was in Hawaii at Wai'anae High School." Mr. Hokinson explains. Mr. Hokinson decided to come to MCHS, because he wanted a job that was closer to home. He went to a job fair and he was offered two jobs. One at Huntley High School and one at MCHS. Mr. Hokinson decided to continue his teaching career at MCHS, because of his very first experience at the school. "I came into where the old office was and Miss Theel was there…she just looked at me with a big smile on her face and she asked me what I was doing here so early…I told her I was here for an interview and she wished me good luck and she hoped that everything goes well." Mr. Hokinson explained.
Mr. Hokinson's teaching journey has taken him from Hawaii to Gurnee, and finally to MCHS. All of these experiences have molded Mr. Hokinson into the great teacher that he is today.