Successful volleyball season ends in Regional defeat
Warriors host Regional Championship, but lose close game against Lake Forest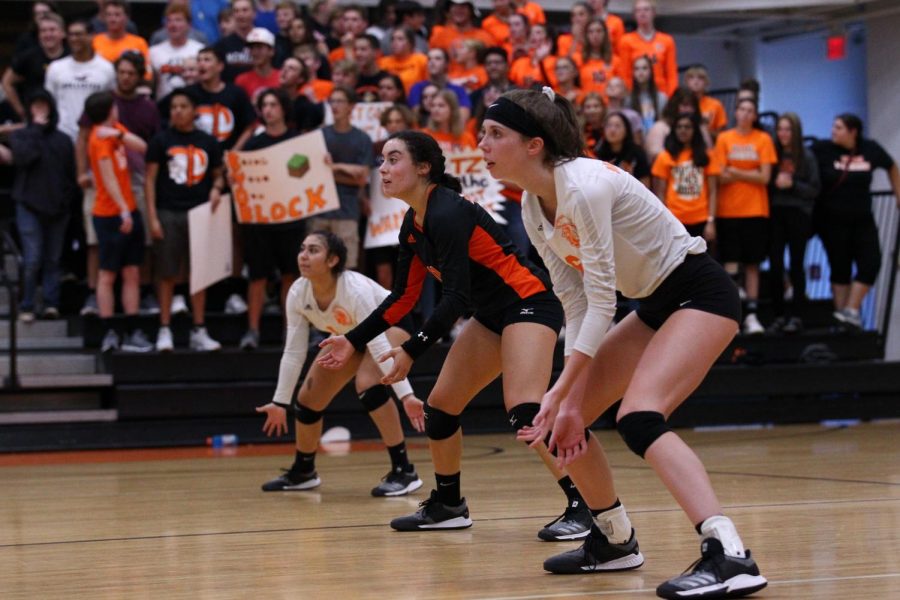 The varsity volleyball season came to a end during the Regional championship game against Lake Forest High School on October 31 in the East Campus main gym. 
The Warriors took on Lake Forest to compete for a chance to advance to the sectional round of the state playoffs being held at Warren High School. Unfortunately, the girls came up short, losing in the first two sets, finishing their season with a record of 24 and 13.
Hilary Agnello, the girl's varsity volleyball coach was able to lead the team to the regional championship game in only her second year coaching for McHenry. Agnello saw early on in the season that this team had the potential to make a run in the state playoffs. 
"Honestly after our first match against Woodstock North because a lot of my players were returning," said Agnello. "So, [after] that first match I was like, wow, oh my gosh, look at them, they're competing. They took what they learned last year and took it to the next level by just growing a year, playing club for a year and after that match, I went back like okay, they have it in them."
McHenry did not go down without a fight, but their efforts were not enough to match Lake Forest.
"We fought as a group, especially at the end of the match," she said. "but we always do, that's why this team was so special. Unfortunately, what we did wrong was make mental mistakes at critical times in the match. We made mistakes that weren't tied to athleticism at moments in the match that turned the momentum against us and put Lake Forest in a position to win." 
Agnello wants the team to learn from a tough loss like this, and ultimately use it to become better players.
"Winning sometimes comes down to who can make the play at the right time," she said. "Those little mistakes are game-changers when the match is as even as it was tonight. They learned that they can work incredibly hard for a point and it matters the exact same as a point lost by a mental mistake. The teams winning are those that do both."
It has been a while since McHenry won a regional championship which makes this loss even more heartbreaking. "We haven't won a regional championship since 1997. Unfortunately, this may need to take 23 years now instead of 22 to break."
Though the season has come to a tough close, Agnello will remember the successful 2019 team as "relentless."
About the Contributor
Zach Brown, Sports Editor
Zach Brown is a senior at McHenry High School's West Campus. He enjoys playing, watching, talking about, and writing about sports.