MCHS teachers and staff receive first COVID dose
As part of Phase 1B of the Vaccination Enrollment, McHenry County's educators receive the COVID-19 vaccine
The teachers and staff of MCHS had the opportunity to receive their first dose of the COVID-19 vaccine on February 12. 
Last Friday, after school, several MCHS personnel headed to Woodstock North High School where a vaccination site set up to distribute shots to teachers and staff. They were vaccinated alongside other teachers and school staff in the area as McHenry County has begun to vaccinate Phase 1B of the Vaccination Enrollment. 
Teachers checked in to the vaccination site and proceeded into the gym, where vaccination stations were set up and nurses were ready to distribute the first dose of the COVID-19 vaccine. 
After being vaccinated, teachers were sent to a waiting area where they sat for an observation period of at least 15 minutes, as recommended by the CDC.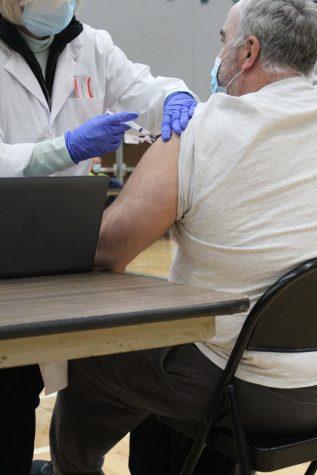 "It was perfect at the school," said Jordan Deener, West Campus Spanish instructor, during his observation period. "They're really quick, efficient, and easy." 
Several other teachers shared similar sentiments about the ease and efficiency of the vaccination process. 
"I was very impressed with the process I went through to receive the vaccine," said Terry Fitzgibbons, associate principal. "The facility was very organized and the staff was prepared to handle the high volume of people coming through to be vaccinated."
"It was pretty effortless," said Tamrah Pitz, another West Campus Spanish instructor, after receiving the COVID-19 vaccine. "We just walked right in went through each of the stations and it was easy."
While the process of being vaccinated was easy, making the decision to get the COVID-19 vaccine was more difficult. 
"I decided to receive it because it feels like the right thing to do in order to battle the virus," said Beth Czubik, West Campus science instructor, who was both excited and cautious about getting the vaccine. "I want to do my part to help protect others and save lives. But it was a tough decision because I would have liked more time to study the vaccine. It does make me nervous that it was fast-tracked and only been approved on an emergency basis."
The vaccination of teachers and staff comes after a long wait, especially after MCHS transitioned into a hybrid model on January 20. Not being vaccinated before going back to teaching in-person has been challenging for many teachers.
"Everybody's health and safety is at the forefront of my mind, and trying to plan lessons that incorporate interactive opportunities yet maintain social distance has stretched my creativity," said Czubik. 
Another concern for teachers, has been the health and safety of themselves and their families. Without the insurance of a vaccine, exposure to the virus has been both a worry and a challenge that teachers, staff, and students alike have all had to face. 
"It has been challenging primarily because I have an infant at home and I have been worried about potential exposure to COVID-19," said Natalie Murphy, West Campus social science instructor. "My husband and I have been extremely careful since the onset of the pandemic. On the other hand, I have been very impressed with how well the students have complied with school policy regarding mask wearing and safety procedures."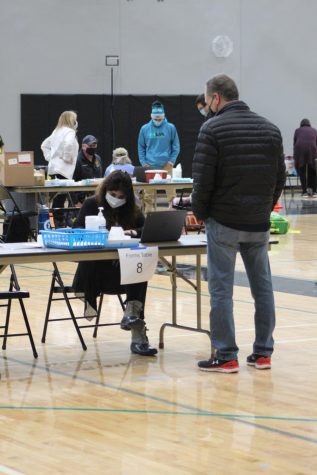 However, the long wait for the COVID-19 vaccination has made many teachers appreciative for the opportunity and excited for what this means for the future. 
"I was definitely a little nervous about receiving the vaccination, but I am grateful we were given the opportunity," said Ashley Diedrich, English instructor. "I think we all hope that this step will help school, everything, get back to normal much more quickly."
"I feel like this is the first step to getting back to some sort of normalcy," said Fitzgibbons. "I have no reservations about being vaccinated. For me, the decision was very easy. I want to make sure that I can both protect myself from others by not be a risk to the community that I serve and my family."
The vaccine has also been a symbol of hope for returning to the normalcy of before the pandemic. For teachers, it is a hope-filled milestone towards going back to school in a normal environment. 
"This has been such a difficult year for teachers, students and families. Getting teachers vaccinated means we are closer to getting our schools back to normal," said Stacy Rockweiler, English instructor at West Campus, after being vaccinated. "I can't wait for the day when we are all back in school together. I also hope that when our community sees teachers getting the vaccine it builds public trust in the vaccine. The more people that get the vaccine, the closer we are to getting back to normal."
"I have never felt so excited to get a vaccine before," Rockweiler continued. "I think all of us were feeling some sense of excitement knowing we are doing our part to end this pandemic. It is exciting to know that what we did today is one step closer to making that happen."
"I am just very grateful that the time has come [to get the vaccine]!" said Marsha Potthoff, principal at West Campus. "It's a sign that things will get better." 
Teachers and staff who received the COVID-19 vaccine Friday will get their second dose on March 12.