McHenry principal seeks to make difference in community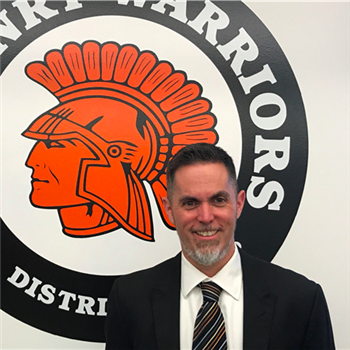 Not knowing what to do with his life, he chose the one thing he thought he'd never do, become an educator. Now, with 15 years of principal experience, five years of teaching, and three years of being Dean of Students, Dr. Jeffry Prickett is ready to make his impact on the schools in McHenry.
Prickett received degrees from three universities to become an educator and administrator. He graduated from Aurora University, National-Louis University, and Judson University, receiving a Doctorate, Masters and Bachelors degree.
"When I graduated high school, I took about two years off of school and didn't know what I was going to do," said Prickett.  "I went to Elgin Community College and met [the woman] who would become my future wife, and she had two kids, and she said, 'Hey you know what, you're really good with kids.' […] and that's how I figured out I was going to go into education, and it blossomed from there."
Not only does Prickett enjoy working with kids, but he enjoys helping the kids who need more than just an education. Prickett has worked with communities in poverty, such as the Round Lake area, where he created a garden in the school fields to help families-in-need get food and sell food to make money.
It has now been two years since Prickett accepted the role of principal at McHenry East High School and has implemented many changes to the culture at East.
"Dr. Prickett already organized a Christmas party for children in need, which was hosted at East Campus earlier this year," said Anna Karcz, a junior at East Campus. "I believe his wife has a large role in the organization Kids in Need and that this is something they are involved in as a family."
Staff said they have already felt his presence at East.
"He is very welcoming and easy to talk to, and I feel comfortable talking to him about whatever topics I want to discuss," said Leah Vercelli, a science teacher at East Campus. "He definitely has a lot of pride for the school and the community, which he shows through all of his actions."
Prickett said he is always looking to help others, which, is, in fact, a part of his personal philosophy.
"We are here to make a difference for other people," Prickett said. "So if I leave this earth tomorrow, that's how I want to be remembered, by making a difference in somebody else's life."
Prickett said he would like others to consider their own impact.
"This is something you should start thinking about now, 'What legacy do I want to leave behind? How do I want to reach others?' Because helping others is the greater cause."