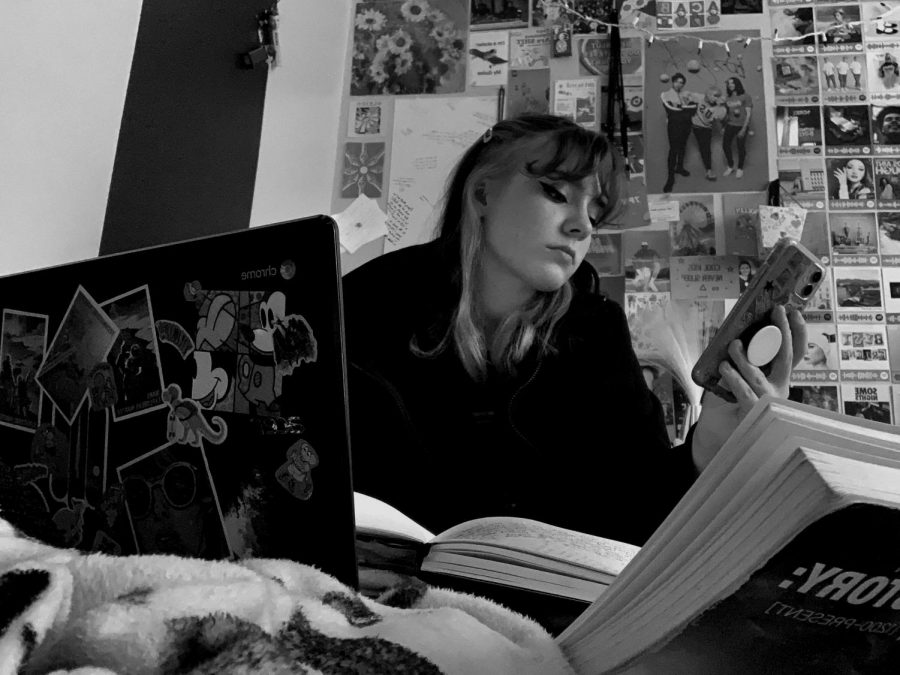 Spring quarantine
March 12, 2021
The first case of COVID-19 in the US was reported on January 21 in Washington. 
After that first case was reported in the US, things began to change and the spread of the virus began to pick up. On January 31, only ten days later, the World Health Organization, WHO, issues a Global Health Emergency, according to the American Journal of Managed Care (AJMC) Timeline of COVID-19 Developments in 2020.
On February 3, a public health emergency was also declared in the US. By this time there were more than 9300 COVID-19 cases and 200 confirmed COVID-19 deaths worldwide. 
The coronavirus outbreak was officially declared a pandemic on March 11 by WHO. This was closely followed by former President Donald Trump declaring a national emergency two days later, on March 13. 
That same day, Illinois governor JB Pritzker closed all schools in Illinois until March 31. Schools remained closed for the rest of the 2019-2020 academic school year. 
On March 13, MCHS announced that it would close the week before spring break. Students were to learn asynchronously and then reevaluate and return to school shortly after the week-long spring break. 
"I think at first, like everyone else, I was overjoyed that we had an extra week of spring break," said Elizabeth Hying, current senior at MCHS. "Then probably like a month later was when I started getting nervous, like, 'How long is this gonna last? How long are we going to be stuck like this?' I wanted to go back to school. I really liked school. I enjoy being [at school] so just the longer and longer it went, the sadder I was that I couldn't go to school."
"When we were first told that we were going to have 'an extended spring break'  I was happy," said Emily Meyer, MCHS sophomore. "Once it extended through the rest of freshman year, I was kind of upset because there were going to be things that we would have to miss out on."
However, as COVID-19 cases continued to rapidly increase, Pritzker issued a stay-at-home order on March 21. Schools remained closed, and remote learning schedules were put into action. Teachers jumped into teaching via Schoology and Zoom calls, and students navigated learning in a digital environment.  
"We were functioning in that remote environment and that was something that no one in education has ever done before where you were sitting down and serving students in a complete remote capacity," said Dr. Ryan McTague, District 156 Superintendent. "I'm very proud of our staff members and I'm very proud of our students because I thought that we were able to still deliver that high level of instruction, you're really utilizing that modality that had never been used before."
The sudden change to full remote learning was difficult for teachers, who had to quickly learn to navigate digital teaching and providing quality instruction to students. 
"It completely changed everything about our program," said Spencer Hile, band director. "Our curriculum in classes had to change drastically because everything we do is about playing music with and for other people. Our classes are built around multiple concerts each semester and that all went away."
"I was very excited in the beginning of the quarantine because I thought I could demonstrate and prepare digital lessons successfully," said Michelle Zimmerman, West Campus art instructor. "What I didn't anticipate was the additional hours of prep time. I was working 14 hour days planning and creating videos. The work itself was fun, but the additional time taken away from my 'Zim' time was very difficult for me and was starting to wear me down emotionally."
With school being closed for the rest of the semester, all school activities and sports were also canceled. This, along with remote learning, was difficult for students, especially seniors of the class of 2020 who graduated in May. 
"It tore me apart," said Anastasia Correra, MCHS class of 2020 graduate. "And it wasn't that I cared so much about being there, per se. It was the fact that my senior year was getting cut off right before the year was supposed to be fun. All of the exciting and fun stuff about senior year happens in April and May and we were cut off in March, so that was a tough pill to swallow. It felt like the rest of the year was a huge waste of time. and it hurts knowing I'll never get that back."
"I had graduated early in December, so I was halfway into my first semester of college at [McHenry County College]," said Brooke Nett, MCHS class of 2020 graduate. "However, I was still looking forward to going to the traditional events like prom and graduation so I was incredibly shocked but I know it was for the best. We needed to do what we could to keep everyone safe and at least we could still learn. Even if it was online."
By the end of May, COVID-19 cases were still increasing, and deaths related to the virus had reached a new height in the U.S.