Young professionals
As graduation approaches, some seniors have already started their professional lives by starting up small businesses
For seniors, graduation marks the end of high school, an unforgettable period of their lives full of challenges and triumphs. But it also marks the beginning of their professional lives and careers. However, some seniors have already had the beginning; they took initiative to start up small businesses. 
Senior Kaili Wegner recently started her business, Give me an Earing. Wegner makes polymer clay earrings and sells them. She started this business during the beginning of the stay at home order due to the COVID-19 pandemic. 
"I felt very unproductive in the beginning days of the stay-at-home order," said Wegner. "I wanted to find a hands-on hobby, so I started making polymer clay earrings. I hadn't even considered selling them until I got a lot of great feedback from friends and family."
Wegner sells her handmade earrings locally and donates 50% of the proceeds to local organizations. She is using her business as a creative outlet that also allows her to support community organizations that are necessary in the fight against COVID-19. 
"While I will likely continue this business as a hobby throughout the summer and college, it will still be on a small scale," said Wegner. "I hope to eventually start shipping across the country."
Using her small business as a stepping stone, Wegner will be attending Northwestern University in the fall. She is still unsure about specific careers but she hopes to have a future in the government of business. 
Jocelyn Currie, another senior from the class of 2020, also has a small business. Her business, Jlc Scrunchies, is something she started in December of 2018 when scrunchies gained popularity. Currie began to make her scrunchies when she had difficulty finding cute patterned ones.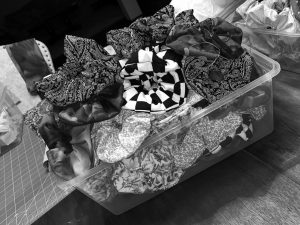 "My grandma taught me how to sew and she helped me figure out how to make them handmade," said Currie.
As they gained popularity, Currie began making more and selling them. She's made them for various people, athletic teams, and events. Currie hopes to continue making scrunchies in new patterns and selling them. 
"I would love to continue this small business," said Currie. "My aunt has a shop in Waukesha Wisconsin, where she is currently selling my scrunchies for me." 
Currie's business has been a small step into her professional life. She is attending Loyola University Chicago after high school and while she is still undecided on a major, Currie hopes to become a dentist or physician's assistant. She is passionate about pursuing a career where she is able to help people. 
These seniors, and others within their graduating class, have taken proactive steps into their professional lives. And while graduation might seem like the closing of one door, the end of something special, it is the opening of many possibilities for these young professionals.