Making the world a greener place
The MCHS Environmental Club created a climate agreement calling on MCHS to take accountability for their impact on the planet
It is common knowledge that our world's climate is drastically changing. People all over the planet have been trying to negate this, including MCHS freshman Daniel Thomas. As the head of the Environmental Club's very own climate agreement, he and other members of the club are taking initiative to hold MCHS and other McHenry County high schools accountable for their impact on the planet. 
Thomas stated that this plan has been in the works even before he joined the Environmental Club. But, it was not until he had the other students on his side that he was able to bring it to fruition. "I joined the Environmental Club to get my Greentastic Plan and McHenry Climate Agreement done," he says.
The Environmental Club's McHenry Climate Agreement consists of 8 different points, including the initiative to eliminate all single-use plastic, educate students on climate change more, plant more greenery around in and around schools using compost made from school waste, install solar panels where there are none, fully replace gasoline-dependent busses with electric ones by the year 2040, limit fossil usage in any way, invest in new and more energy-efficient equipment, and invite other schools to create their very own Environmental Club.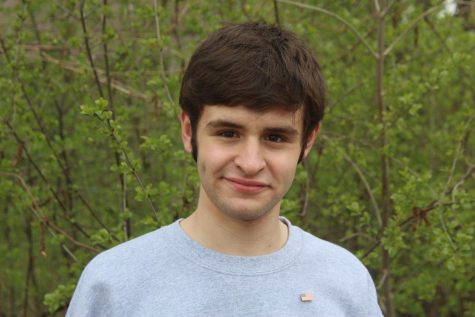 Through his own research, Thomas has decided that these points will be most effective and beneficial in helping MCHS and other McHenry high schools to lessen their impact on the planet.
These goals are numerous and imposing, but Thomas feels confident that his team will be able to get it done. "I set up a team of four to five people to get it done called the Climate Coalition. [The Climate Agreement] wouldn't be possible without the Environmental Club's and [assistant principal] Mr. [Greg] Eiserman's support," Thomas says.
Now, after introducing the Agreement to MCHS, he and the rest of the Environment Club are planning on when they can take it to their next stop, Huntley High School.
Climate change is an incredibly large issue to take on, and the task can seem overwhelmingly daunting. But, the initiative shown by Thomas along with the rest of the Environmental Club is proving a very important point; In order to change the world, we must all take small steps. Through that, we will experience big change. "Everyone should be able to help in the fight against climate change; that's what my plan is all about," Thomas says. "Anyone can stand up for what is right."