Opinion: We need another Wonder Foods
When beloved stores like Wonder Foods close down, the entire community feels the effects
Alexis Parrish, Contributing Writer
December 8, 2022
It is a sunny day in Wonder Lake. Some person walking into their favorite grocery store Wonder Foods sees that everything is on sale. They ask why it is on sale, and the manager says they are closing.  The person is so upset to find the news that they will now have to drive further to get fresh food.
Wonders Foods was the largest grocery store in Wonder Lake for decades. It closed in October. The store was convenient because it was close by, meaning citizens did not have to drive too far to a store. Wonder Foods was close enough to some people that they could even walk to it. Wonder Foods closing can cause a negative impact seeing as so many people relied on the store.
Wonder Foods closing is a tragedy because it is unfair to the older people that can't drive far, or people who don't have reliable transportation.People should not have to drive far to get fresh food or just one item they might need, and they shouldn't have to go to a further, more expensive store to get food. Wonder Foods was close and accessible,  and its closing means that people will have a harder time getting fresh foods for them and their family.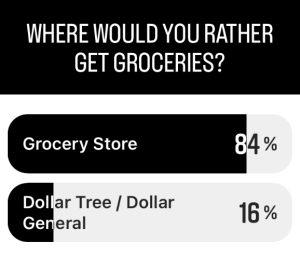 This grocery store was a dependable place to buy good food, and its replacement won't be enough. A Dollar Tree now occupies where Wonder Foods's old building once was, which now means there are three Dollar Trees and two Dollar Generals in the McHenry area. The community doesn't need any more Dollar Trees with inexpensive and unhealthy food — they need an accessible grocery store with healthy food.
Wonder Foods was not just embraced by the community, but also gave to the community. Not only did Wonder Foods provide their community healthy food options, but would also give food to local food pantries. It was a good thing for people in need in the community.
With Dollar Tree being the new option for Wonder Lake citizens, it may still be a close and cheap option, but it will never compare to what once was Wonder Foods, which was a hub of the community where people could chat and catch up in addition to buying groceries. Most people will go to Walmart or Jewel in McHenry to get food now, and our community will lose this connection.
As that person walks out of Wonder Foods for the last time, they cry seeing that it is their last time in the store. After such a long time of shopping here, they now have to resort to other options, leaving them distraught. Wonder Lake needs another grocery story like Wonder Foods, which was more than a grocery store.