Are you "Among Us"?
With adorable character designs and suspenseful game play, "Among Us" has swept the nation off of its feet—and for good reason.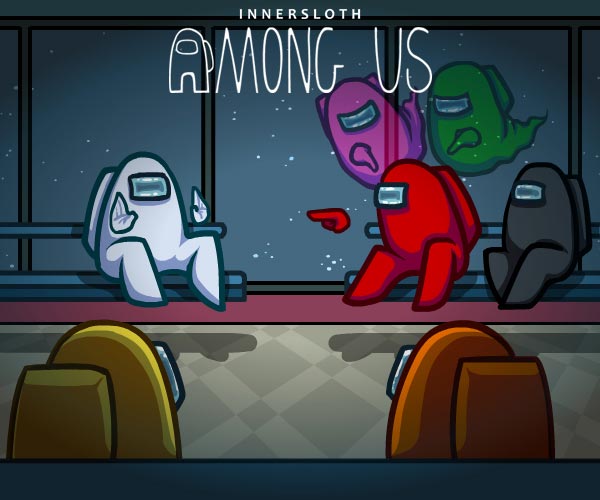 A new game has seemingly popped up out of nowhere, and the gaming community is eating it up. Though "Among Us" hit the scene in June of 2018, it is just now starting to rise in popularity, and there is a good reason for it. From its setting to countless crewmates, and daring imposters, "Among Us" has seemed to grab the attention of many people.
Among us is a space-themed murder mystery game that splits players into two groups, Crewmates, and Imposters. The job of crewmates is to complete tasks around the map, and the job of imposters is to sabotage vital systems within the ship and kill crewmates to prevent them from completing their tasks. 
The game has gained a lot of traction recently with influential people such as the U.S. State Representatives Alexandria Ocasio-Cortez and Ilhan Omar playing the game together. The game has also helped to boost new creators as well, such as Corpse Husband, who has played the game with huge creators like Pewdiepie and Jack Septiceye as well as AOC. 
People across the country have raved about the game for weeks, and it's easy to see why. It's fairly simple to learn the basics of the game, and even if you make a terrible imposter, there's still a chance for you to win. You never know what other players will do, which makes the game different from other online games because every round is completely unique. 
"I think that it's a really good game," says Courtney Faust, a sophomore at West, "and I'm glad it's finally getting the recognition that it deserves even though it came out a few years ago. Sure there are things that could be done to make it better but I think that it's a good game."
Though people who play the game ultimately enjoy its simplicity, there's still room for improvement. "I don't really like the fact that there's no friend system." Faust continues. Players can opt to have a public or a private server, and they can share codes with their friends, but there is no way to friend strangers.
 Oftentimes people will find a stranger in a public server who they really enjoy, but there's no way of finding them again in-game. Players have turned to social media platforms like TikTok to attempt to find their long lost "Among Us" pals, but there is no way of telling whether they're the right person or not. 
One other common complaint about the game is that it is very difficult to explain yourself over the in-game chat. Luis Aguilar, the Esports coach for MCHS says, "Another thing is the chat. With my gaming group, we like to play in a voice channel in Discord and mute ourselves until we need to speak and then take turns speaking. Trying to convince players why you're not the imposter can get tricky only communicating via in-game text."
All that being said, Among Us truly is a great game that is accessible to so many people due to the fact that it's free to play on mobile and only $5 on PC. And, as Aguilar argues, this game has appeared at an incredible time where people are desperate for entertainment, especially when we can include our friends in the fun from a distance. 
Among Us is a perfect game that has brought many people together because it's simple yet attention-grabbing all at once. The game can be anything you make it, and that's part of why it's such an amazing game.