Compassion in cops
Student Resource Officer Paul Prather works side-by-side with students to stop vaping across MCHS.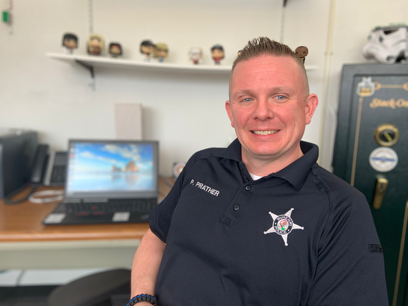 Megan Walsh, Staff Writer
February 26, 2020
The bell rings as students are getting to their class. The new Student Resource Officer, Paul Prather, patiently waits at the entrance greeting all the students as they come in. During passing periods, kids can see Prather walking the halls and initiating conversations with students. This is all part of the reason that he chose to apply for an SRO. 
Before becoming an SRO, Prather worked out on the streets. He stated that the worst part of being on the streets was seeing children in bad places. He said it was always hard to see kids with heart problems or having to work with CPS (Child Protective Services). When he started on the streets, he was sad when he had to show up to calls that were for kids but eventually, once he had kids, became angry. "I would never treat my kids like that." Prather would love to do "Shop With a Cop" or just spend a weekend with them and provide a happy place to show them that it is not just bad. "Shop With a Cop" is when police officers bring kids to stores in town for items they may not be able to get at home. 
Officer Prather went from the streets on the drug unit, to the school for the students. This dynamic change from no uniform and roaming McHenry to being confined in the walls of McHenry East is not a decision that officers generally make. The main reason that he decided to become an SRO is because of the adults he had experiences with in the field. He decided to take a stand and try to connect with students when they are more impressionable in order to show them that the police are human, too. Deputy Chief Thomas Walsh, who is a part of the interview process for SRO, states that he believed Prather would be good for the job "because he could connect to the kids." 
Prather cracked down on the vaping epidemic in this current year. There is less vaping seen in the bathrooms because as Prather stated, "Unfortunately, a part of my job is sitting in the bathrooms." Students may not know of the $150 fine for every vape that is found on them, and  "[Prather has] searched for worse and will find it." The reason that he is so strict on the students about vaping is because students do not generally realize how bad it is for them; "flavored are banned for a reason," explained Prather. 
The only time that he will not write students up for vapes is if they came to his office, put their vapes on his desk, and say they wanted to stop. He would then go out of his way in order to get students in the right program and help them quit. This caring leniency only works before getting caught. Students cannot get caught with one and say, "I wanna quit" after getting caught; you have to bring it to him first. 
Prather calls himself a "kid at heart," which helps him to connect to the students at McHenry East Campus. Prather walks the halls interacting with the students; he can hardly be found just sitting around in his office. Even when speaking with kids in any classroom, he knew more than half the students' names in the class and started some sort of conversation with them at one point. 
Connecting to the children is a very important part of being an SRO. Without connections to the students, the job will not be interesting or fun. Prather stated that "I like [being an SRO] more than I thought I would." He pointed to Gabino Garcia in the corner expressing that he finds a way to make Prather laugh every day. "You guys crack me up." The environment and humor that the students bring helps Prather to enjoy coming to work. 
What students do now affects their future so directly that they need to keep their grades up.  Prather does not consider D's passing and thinks bad grades in the beginning will be detrimental to a student's future. Prather would like the students of McHenry East Campus to know that they need to keep their  grades up. He would also like students to know that "yeah, there is a lot of bad out there, but at the end of the day, I am just trying to make [the school] better".