Passion for fashion
Turning an interest into a hobby, teacher Andrew Hillier explores sewing/design, and also uses it to give back to students
Once he finishes meeting with the new client and getting sketches finalized, French teacher and East Campus drama director Andrew Hillier begins his work. After countless hours spent draping cotton and completing the different segments, he can begin to fully piece together the soon-to-be dress and wow the client.
Hillier started pursuing design recently due to his work in theatre, and has since taught himself how to sew and create outfits. "I started to sew because of my work in the theatre department. I realized it was not only something I enjoyed, but something I'm good at," he said. "So, I wanted to get better and better and I'm always looking for new challenges in my sewing."
He has always liked fashion and, as a language teacher, he has also come to enjoy the communicative aspect of fashion. "Clothes send a message, for better or for worse," he said. "I'm intrigued by the communication we send to others by the clothes we wear."
Aside from doing design work for theatre and as a hobby, Hillier found another outlet to expand his skill while also providing for others, making dresses for students who cannot afford them. "I had a student a few years ago who needed a dress and asked me to do it," he said. "[And] I thought it would be a good challenge. It's now expanded to making a dress a year either for a student in need, or because I can learn something new to expand my skill set: dresses for a tall girl, larger or smaller frame, etc."
Hillier has also expressed the struggles that come with designing formal gowns. "I use traditional, couture techniques and they take a long time. Other than the major seams of the garment, everything is hand sewn," he said. "This year's dress [was] started in November, and I probably won't finish until March. [And] I admit that I will sew other projects in between." 
One student who had a dress made by Hillier was senior Kylee O'Brien, who was approached by Hillier himself for the offer, having already known each other well. "[He] told me that he loves designing for taller girls, and wanted to make a dress for me," she said. "It started out as a joke. I didn't think he genuinely meant it and then all of the sudden the process was happening."
After receiving the gorgeous dress, O'Brien felt humbled and amazed at Hillier's talent and kindness. "I think it's very, very kind of him. Personally, my family doesn't have the money to ever get the expensive dresses other girls get so getting the opportunity to choose my dress and get it custom fit for me is something I will remember for a lifetime," she said. "I saw firsthand how much crazy work went into it, and so for him to just do it out of the kindness of his heart is so very admirable." 
Hillier believes the beauty of sewing comes from how personal and customized it can be. "The beauty of sewing to me is to make something that someone else feels good in," he said. "I made a coat a few years ago for a friend in cashmere and a silk charmeuse lining. That coat would've cost a lot more if it were made commercially. Same thing with formal-wear, you can make a dress in silk that feels so much more comfortable and flattering than polyester, and pay a fraction of the cost."
He also highly recommends pursuing sewing, stating, "Just jump in and go for it. Start with easy fabrics like cotton and don't be afraid to take risks and make mistakes. There are tons of tutorials and help online. It can be done, I'm proof!"
Hillier shows what makes a hobby fun: a passion and determination to constantly improve, and make something that others can enjoy. As for a more personal project, he is eagerly anticipating another challenging project. "I'm going to start my first Chanel-style jacket, and I'm a little intimidated — most people say it takes between 80-120 hours of work to produce. Bring it on!"
About the Writer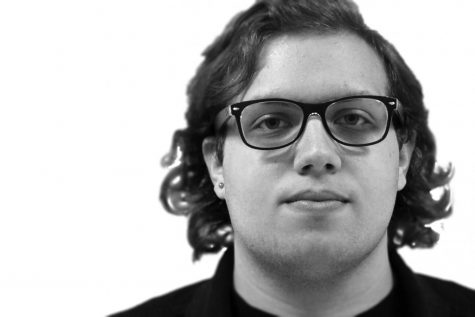 Jared Bysiek, Features Editor
Jared Bysiek is a senior at McHenry High School's West Campus. He enjoys photography, literature, art, video games and music, especially punk, ska and thrash. A member of MCHS's yearbook staff his junior year, Jared's passion for music and journalism fuel his interest in politics, staying informed, and searching for the truth.