A matter of respect
Both students and staff have noticed disrespect running rampant at MCHS this school year — and the numbers confirm their hunches
A student in gym class doesn't know how to play basketball, the team sport of the week. They are yelled at by the other students saying, "Hey! Come on! You could have made that!" The student leaves gym class feeling discouraged, unwilling to even try.
MCHS students get bullied, disrespected, and hurt in fights, which creates a bad environment at the school. Not only that, but teachers also feel disrespected through students being on their phones or just being loud and disrupting class.
A poll from Panorama Education shows that 39% of students feel disrespected frequently, or almost always at MCHS. But what is the school doing to stop this from happening, and how can students prevent this?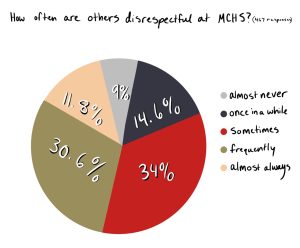 Sophomore Kittrix Reeves says, "Anywhere that you go you feel uncomfortable because you can have friends around or people who … don't care, but there's always people who will go out of their way to make you feel uncomfortable whether it's throwing insults at you, or just staring in a very obvious way and laughing with their friends."
Students may not be trying to be rude or disrespectful, but if they aren't thinking about what they are saying, it can come off that way. 
"Sometimes the students don't always think about how their actions…hurt other students by either being embarrassing, by maybe being a little too aggressive, or even physically hurtful, or just sometimes getting in the way," says English teacher Abby Kirby, "If it's paying attention in class, or if it's like trying to make a genuine connection, sometimes things don't exactly meet up and that's where that unkindness comes from."
A 10th grade behavior/bullying questionnaire shows that 30.6% of 10th graders say that students are frequently disrespectful to their peers at school, and 11.8% say that students are almost always disrespectful.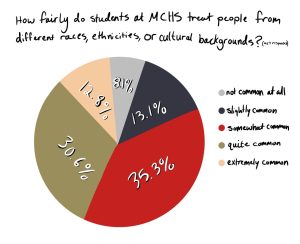 "Racism is a form of bullying, and I do think it's a way to put someone down," says Upper Campus Dean Hillary Agnello, "It has a separate avenue to it, but it is a form of bullying."
Agnello sees racist comments from students as a problem that can be solved. 
Agnello says, "To prevent racism you have to teach kids what it looks like. And sometimes kids don't realize that they're actually being racist… and they don't even realize it. Some do. Some don't. So education is a big piece. What does it look like?"
MCHS provides resources such as the chill zone and social workers to help students that are struggling.
Agnello says, "Our school social workers are in my hallway. So I see a lot of kids coming in. I think the Chill Zone is a wonderful way for kids to have access to them. I honestly couldn't say if the entire student body takes advantage of it enough though. I know they're very busy, but that doesn't mean it's the same kids over and over again. We might be missing a larger population."
The same student returns to gym class the next day knowing he will have to play basketball with the same students. He decides to take advantage of his resources and go to the chill zone. While he is there, he is able to talk with a social worker and leaves her office feeling ready for tomorrow.