Review: Say 'Hi' to 'Heartstopper'
Netflix's new show 'Heartstopper' is a wonderful teen romance that has drawn in a large audience with its acceptance and fun loving characters.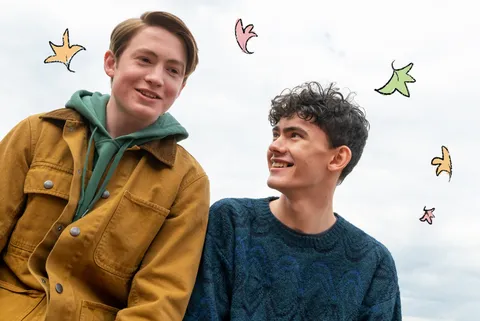 "Heartstopper" came out on April 22, 2022 after people had been waiting since it had been announced. It's wildly popular due to the iconic comics that center around teenagers finding who they are and learning to understand themselves. It is quickly becoming the face of queer media.
"Heartstopper" is a new Netflix show that is based on a series of comics by Alice Oseman. It centers around two young teenage boys. One of which is Charlie Spring. He is openly gay, in the school band, and has a habit for falling for guys that don't like him back. The other is Nick Nelson. He is the star of the school rugby team, he is one of the few genuine people in the "popular" crowd. When they are assigned to sit next to each other, Charlie quickly falls back into his habit of falling for a guy he thinks he has no chance with, and Nick finds himself.
After only being out for a short period of time, it has a 100% on rotten tomatoes and has quickly become one of the most critically acclaimed netflix shows. This is not only for the great acting, but for the amazing representation this show gives. It gives positive representation to not only queer people, but also trans people, as well as people of color. 
Many they were younger, many queer people were stuck wishing they had some for of representation in popular media. Many were stuck making things up about two side characters who shared a glance once. "Heartstopper" is modern media finally giving young queer people what they need in terms of representation. Even with millions of people watching it, it makes LGBT people feel like they have finally been seen. On Twitter, @tinyaled even tweets, "I feel like it's my own little show even though there's millions of people watching it."
It brings many LGBT people back to how they felt at 15/16. How hard it really was coming to terms with something as colossal as their sexuality or gender. "Heartstopper" perfectly encompasses the feelings that many shows neglect. Many people have found that figuring out their sexuality shattered their world, for some it was positive, others it was negative. @KristianSWelch on Twitter says, "…that got me in all my feels and took me back to so many places between 16-18, didn't think I would cry as much as everyone said, however [I] did." 
Not only is "Heartstopper" this successful because of how relatable it is to queer teens, it is also beloved because of how accurate the show is to the orginal source material. Not many shows/movies live up to their original source, but "Heartstopper" is an exception to this. It encompasses not only the main characters falling in love in high school, but also their friends finding themselves and each other. Many people have taken to Twitter to share their thoughts on the accuracy of this show to it's original source material. @missfairygm is one of these people, "Heartstopper: a lesson in how to adapt books."  
Even if the show only came out just over a week ago, there is already hype and push for a new season. For days on end people all over social media have been posting love for this new series to hopefully ensure "Heartstopper" gets a second season. Looking forward, people are waiting to see more of the characters and see their personal relationships develop.